Coronavirus Tidbits #92 11/4/20
Announcements:
First, there is now a Resources Page here for the most commonly asked questions I'm getting.
Tidbits will likely be a bit shorter and a little less frequent for the next little bit. I have been immersed in #GOTV. Now I will shift to ballot "curing" briefly, and mourning the divide and craziness in our country.
Happy to continue to answer your questions/concerns as best I can, so don't be shy about that.
Diagnostics:
still an incredible, negligent lack of rapid, accurate testing.
Regeneron, Lilly Setbacks Raise Questions on the Effectiveness of Antibodies in Severe COVID-19
By  Alex Philippidis  November 2, 2020  Genetic Engineering & Biotechnology News
Clinical setbacks reported this past week by Regeneron Pharmaceuticals and Eli Lilly have raised questions about the effectiveness of antibody therapies in patients with severe COVID-19 compared to patients with mild-to-moderate forms of the virus.
https://www.genengnews.com/news/regeneron-lilly-setbacks-raise-questions-on-the-effectiveness-of-antibodies-in-severe-covid-19/
~ ~ ~
Do you trust FDA on COVID-19 vaccines? States and a Black medical group form review boards for second opinion
Elizabeth Weise, USA TODAY  November 3, 2020
At least five states – California, Nevada, New York, Oregon and Washington – and a Black medical group say they'll conduct independent verification of any COVID-19 vaccines approved by the Food and Drug Administration.
https://www.msn.com/en-us/news/us/do-you-trust-fda-on-covid-19-vaccines-states-and-a-black-medical-group-form-review-boards-for-second-opinion/ar-BB1aw9ZC?ocid=msedgdhp
~ ~ ~
DoD, HHS Spend $375 Million on COVID Drug That NIH Says Won't Help Hospitalized Patients
28 Oct 2020   Military.com | By Patricia Kime
The Departments of Defense and Health and Human Services are buying 300,000 doses of a COVID-19 antibody treatment made by Eli Lilly -- a therapy federal researchers said Monday shows no improvement in hospitalized patients, but the company maintains could help treat patients with milder cases.
Under Operation Warp Speed, the Trump administration's initiative to fast-track a coronavirus vaccine and treatments, DoD and HHS are buying 300,000 doses of bamlanivimab, a monoclonal antibody therapy, for an initial purchase price of $375 million, according to the Pentagon.
The intention is for the intravenous treatment, also known as LY-CoV555, to be distributed to states and local health departments for outpatient care once the Food and Drug Administration authorizes its use.
Earlier this week, Eli Lilly ended its clinical trial of bamlanivimab for patients hospitalized for COVID-19 after researchers with the National Institutes of Health concluded it didn't appear to help them recover.
The study had been paused Oct. 13 because of a potential safety concern. But after investigating the issue, NIH researchers ruled the therapy posed no significant safety risk for patients. They did conclude, however, that it was "unlikely to help hospitalized COVID-19 patients recover."
https://www.military.com/daily-news/2020/10/28/dod-hhs-spend-375-million-covid-drug-nih-says-wont-help-hospitalized-patients.html
Epidemiology/Infection control:
Maryland
had 1000 cases overnight, with almost 600 hospitalized and a spike in ICU cases.
Cumberland has had 90 new cases this week. Hogan still won't give us a testing site.
I learned of an exposure at Emmanuel Episcopal Church and told the newspaper about it, since the health department doesn't reveal potential sites like this. I think that is irresponsible and likely to fuel the spike in cases here. If exposed people knew in a more timely fashion, rather than waiting days to be called by a contact tracer, they could quarantine and take more precautions.
~ ~ ~
Things have gotten so bad in the US they had to come up with a new color code for cases/million but ran out of colors for the Dakotas, highest in the world https://t.co/BpmBybV8U5 pic.twitter.com/KL6i6F7MrF

— Eric Topol (@EricTopol) November 3, 2020
~ ~ ~
Contact Tracers Eye Cluster-Busting to Tackle Covid's New Surge
Japan has shown success in containing the coronavirus with an approach that tracks infections to their source...focusing on where the individual caught Covid-19 in the first place. That extra step, known as backward tracing, exploits a weak spot of the virus — the tendency for infections to occur in clusters, often at super-spreading events.
KJ Seung, a doctor who helps oversee contact-tracing for Massachusetts, said he adapted his approach this summer after watching a seminar with Japanese scientists. Since his team started backward tracing, they've uncovered clusters at weddings, funerals, bars and other places where people congregated, generating fresh insights into the spread of the disease.
"It's been eye-opening," said Seung, an infectious disease specialist with Partners in Health, a Boston-based non-profit group hired to help implement the state's contact-tracing program. "You can discover more cases, more efficiently."
https://www.bloomberg.com/news/articles/2020-11-03/contact-tracers-eye-cluster-busting-to-tackle-covid-s-new-surge?
~ ~ ~
Neighbourhood income and physical distancing
No surprise here:
"people in lower-income neighbourhoods have faced barriers to physical distancing, particularly needing to work outside the home, and that state physical distancing policies have not mitigated these disparities."
https://www.nature.com/articles/s41562-020-00998-2
and Poor Housing: 
Counties with a higher percentage of households with poor housing had higher incidence of, and mortality associated with, COVID-19. These findings suggest targeted health policies to support individuals living in poor housing conditions should be considered in further efforts to mitigate adverse outcomes associated with COVID-19.
https://journals.plos.org/plosone/article?id=10.1371/journal.pone.0241327
~ ~ ~
Almost 20% of COVID-19 patients only show gastrointestinal symptoms
https://www.eurekalert.org/pub_releases/2020-11/uoaf-rfa110220.php
Initial GI Symptoms Independently Tied to Poor COVID-19 Outcomes
https://www.medpagetoday.com/meetingcoverage/acg/89356?
~ ~ ~
Hot or cold, weather alone has no significant effect on COVID-19 spread
That means whether it's hot or cold outside, the transmission of COVID-19 from one person to the next depends almost entirely on human behavior.
https://www.eurekalert.org/pub_releases/2020-11/uota-hoc110220.php
Tips, general reading for public:
StayAtHome
Wash your hands.
Rinse and repeat.
If anyone claims that votes counted after November 3 are not legit, know:

- The Constitution specifically gives *states* control of elections, and

- Federal law creates a "safe harbor" period of *five weeks* to permit states to count votes and certify results.

Reject the BS.

— Elie Honig (@eliehonig) November 2, 2020
he Grand Rapids Police Department says it got word Monday of the vandalism at Ahavas Achim Cemetery. "TRUMP" and "MAGA" were spray-painted across six headstones, police said. https://t.co/wdsd4XdNKM

— WKRG (@WKRG) November 3, 2020
~ ~ ~
Very soothing pic.twitter.com/urdvqXFrmd

— Sarah Cooper (@sarahcpr) November 5, 2020
explanation of the dataviz: https://www.core77.com/posts/90771/A-Great-Example-of-Better-Data-Visualization-This-Voting-Map-GIF
~ ~ ~
The USPS has turned down a federal judge's order to sweep mail processing facilities serving 15 states, saying it would stick to its own inspection schedule.

The order came after the agency disclosed that more than 300,000 ballots could not be traced. https://t.co/piATxquT5l

— Kyle Griffin (@kylegriffin1) November 3, 2020
~ ~ ~
Two Louisville high schoolers just took down the commissioner of the Kentucky State Police. Let that sink in https://t.co/5sCGNsJFnv

— Kevin Trager (@Kevin_Trager) November 3, 2020
~ ~ ~
Exhibit A on the motion asking Justice Barrett to recuse herself from election cases. https://t.co/DLRHPyvzhb

— Joyce Alene (@JoyceWhiteVance) November 2, 2020
~ ~ ~
I'm that guy. And if Donald Trump really cares about what I think, here you go: no President has bungled anything, ever, as badly as Trump has bungled COVID. Period. https://t.co/mZhVgBhfGR

— Ronald Klain (@RonaldKlain) November 2, 2020
~ ~ ~
I've worked several shifts on the Voter Assistance Hotline. I had a sweet call today. It was from an older woman from Florida wanting to make sure her mail in ballot was counted. She missed the primary…Then they had mailed an early voting ballot she never used. She went to Election office and was given Ballot #2. She was anxious and wanted to be sure her vote was counted. We checked on the state's website and saw her ballot had been accepted. While we were chatting, I asked about her mild hacky cough--she told me she had Covid in July and spent 2 weeks in the ICU. She was still ill but very gradually getting better. I felt so happy this one person has peace of mind because of our team.
~ ~ ~
There was a second touching call a few days ago. A woman had gone to visit her elderly parents and her car died, leaving her unable to get back home to vote. While we were not able to get her an absentee or emergency ballot, I gave her some suggestions re contacting NAACP re their rides program as well as the local Dems, Lyft and Uber. I doubt that she was successful...but she was so cheered up that someone took the time to listen to her, cared and tried to brainstorm with her. Made my day. It was nice feeling useful.
~ ~ ~
Seeing the determination of people to vote was pretty impressive as well.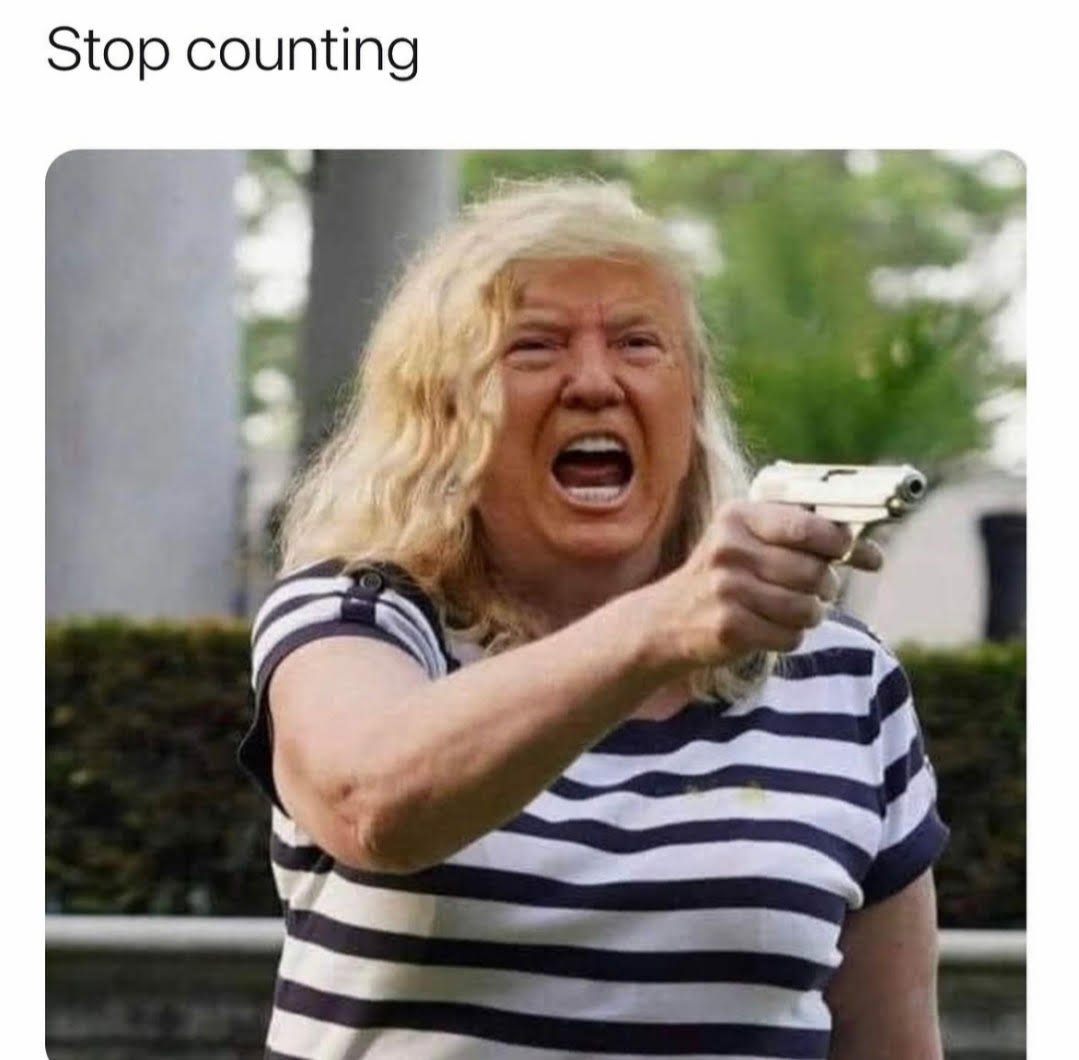 How to billy bush pic.twitter.com/TDacBB2FAG

— Sarah Cooper (@sarahcpr) October 29, 2020
~ ~ ~
You could be the difference between someone making it out to the polls or staying home. And many states could be decided by a handful of votes. Join me and make some calls for Joe in the last few days of this election: https://t.co/FZknijCx0E pic.twitter.com/XGUnAArRXW

— Barack Obama (@BarackObama) October 31, 2020
"The hottest places in hell are reserved for those who, in times of great moral crisis, maintain their neutrality."  - JFK
~ ~ ~
If ALL Biden does is lessen the impact of Covid and steer us towards a safe, free vaccine that is distributed promptly, fairly, and competently regardless of race or class, THEN THIS HAS BEEN A GREAT ELECTION.

If that is Biden's ONLY accomplishment, THEN ALL OF THIS WAS WORTH IT

— Elie Mystal (@ElieNYC) November 4, 2020
Happy World #JellyFishDay! Enjoy the view of this incredible species, first recorded in 1909 pic.twitter.com/nlWgxH552O

— National Geographic (@NatGeo) November 3, 2020
~ ~ ~