Coronavirus Tidbits #201 7/17/2021
Announcements:
First, there is now a Resources Page here for the most commonly asked questions I'm getting.
Happy to continue to answer your questions/concerns as best I can, so don't be shy about that.
New Post:
This SCOTUS Endangers Us All - Gun "rights" edition
Covid
US regulators OK new COVID-19 shot option from Novavax
Novavax makes a more traditional type of shot than the three other COVID-19 vaccines available for use in the U.S.—and one that's already available in Europe and multiple other countries.
Nearly a quarter of American adults still haven't gotten their primary vaccinations even this late in the pandemic, and experts expect at least some of them to roll up their sleeves for a more conventional option—a protein-based vaccine.
https://medicalxpress.com/news/2022-07-covid-shot-option-novavax.html
~ ~ ~
Vaccine Boosters:
Ashish Jha, MD, the White House committee's coordinator, said officials have been closely tracking the rapidly evolving BA.4 and BA.5 subvariants, which are the most transmissible forms of Omicron and can evade protection from earlier infection and vaccines. He and his team, however, emphasized that the vaccination can still protect against severe outcomes.
Jha said if people haven't gotten a vaccine dose in 2022, it's time to get one now. "It could save your life," he said.
He acknowledged that some people may be holding off on getting boosted, anticipating a rise in COVID activity in the fall, while others might be waiting for an Omicron-specific booster. Jha said getting boosted now won't preclude people from getting another dose in the fall or winter when the Omicron-specific version is expected to be available.
https://www.cidrap.umn.edu/news-perspective/2022/07/white-house-officials-push-boosters-ba5-surge-intensifies
~ ~ ~
Better brain function, fewer long-COVID symptoms after hyperbaric oxygen
Long-COVID patients in Israel who underwent hyperbaric oxygen therapy (HBOT) saw improvement in brain function and cognitive, psychiatric, and physical symptoms, according to a report published today in Scientific Reports.
Researchers from the Sagol Center for Hyperbaric Medicine and Research conducted the randomized, controlled trial of 73 patients who had long-COVID symptoms for 3 months or more after acute infection.
Jul 12 Sci Rep study
https://www.cidrap.umn.edu/news-perspective/2022/07/covid-19-scan-jul-12-2022
~ ~ ~
COVID-19 pandemic fuels largest continued backslide in vaccinations in three decades
WHO and UNICEF sound the alarm as new data shows global vaccination coverage continued to decline in 2021, with 25 million infants missing out on lifesaving vaccines
The percentage of children who received three doses of the vaccine against diphtheria, tetanus and pertussis (DTP3) – a marker for immunization coverage within and across countries – fell 5 percentage points between 2019 and 2021 to 81 per cent.
18 million of the 25 million children did not receive a single dose of DTP during the year, the vast majority of whom live in low- and middle-income countries, with India, Nigeria, Indonesia, Ethiopia and the Philippines recording the highest numbers.
https://worldhealthorganization.cmail19.com/t/ViewEmail/d/A1AD6113E74152052540EF23F30FEDED/6839E639424B8857E89F0E32AAFB68BF?alternativeLink=False
~ ~ ~
Monkeypox:
In just over 2 months, a global monkeypox outbreak in non-endemic countries has led to at least 10,857 infections. Spain, the United Kingdom, Germany, and the United States have reported the most cases
In San Francisco, health officials said they have only received 3,000 doses of the two-dose Jynneos vaccine, but they need 35,000.....(similar in NYC)
As US cases top 1,000, more testing to come
The United States now has 1,053 cases from 43 jurisdictions, an increase of 124 cases since yesterday, according to the Centers for Disease Control and Prevention.
With Quest, Labcorp, and Mayo Clinic all offering tests—as well as the Centers for Disease Control and Prevention (CDC)—the country should have the capacity to perform 60,000 tests weekly by the end of this month. Half of those tests will be performed by Quest.
Other news:
Women in the health and care sector earn 24 percent less than men
The report, the world's most comprehensive analysis on gender pay inequities in health, finds a raw gender pay gap of approximately 20 percentage points which jumps to 24 percentage points when accounting for factors such as age, education and working time. This highlights that women are underpaid for their labour market attributes when compared to men.
Much of the wage gap is unexplained, perhaps due to discrimination towards women - who account for 67 percent of health and care workers worldwide. The report also finds that that wages in the health and care sector tend to be lower overall, when compared with other economic sectors. This is consistent with the finding that wages often are lower in economic sectors where women are predominant.
https://worldhealthorganization.cmail19.com/t/ViewEmail/d/381814194086AD512540EF23F30FEDED/6839E639424B8857E89F0E32AAFB68BF?alternativeLink=False
~  ~ ~
A medical crisis in the making right now: Post-Roe, many autoimmune patients lose access to 'gold standard' drug https://t.co/Jz71soGbm5

— Dina Demetrius (@DinaDemetrius) July 11, 2022
Damn good and scary article.
Diagnostics:
Frequent rapid-antigen testing can help keep groups of people safe from COVID-19
Among oil-rig workers, shipping crews, and other groups of people who work closely together, COVID-19 can spread like wildfire. Yet trying to prevent spread with long quarantines can be just as disruptive.
With every-other-day testing, all RA test brands—even less accurate ones—work to suppress COVID outbreaks, the authors found.
Testing every three days was feasible with some RA tests, while others weren't accurate enough to offer a clear picture.
Testing every four or five days, though, risked COVID spreading out of control.
https://medicalxpress.com/news/2022-07-frequent-rapid-antigen-groups-people-safe.html?utm_source=nwletter&utm_medium=email&utm_campaign=daily-nwletter
WHO advises against use of two drugs for non-severe COVID-19
The antidepressant drug fluvoxamine and the gout drug colchicine are not recommended for patients with mild or moderate COVID-19 because there is currently insufficient evidence that they improve important outcomes for patients, and both drugs carry potential harms, says a WHO Guideline Development Group (GDG) panel of international experts in The BMJ today.
https://medicalxpress.com/news/2022-07-drugs-non-severe-covid-.html?
~ ~ ~
Alert from @WHO & @UNICEF
"We are witnessing the largest sustained drop in childhood #immunization in a generation. The consequences will be measured in lives...what we are seeing now is a continued decline. #COVID19 is not an excuse."
MORE pic.twitter.com/gj7tzmWwR4

— Laurie Garrett (@Laurie_Garrett) July 14, 2022
Epidemiology/Infection control:
"those with two or more documented infections had more than twice the risk of dying and three times the risk of being hospitalized within six months of their last infection."https://t.co/4jF6MNZ2n9

— Emil J. Bergholtz (@EmilBergholtz) July 6, 2022
~ ~ ~
It's not just COVID cases that are rising in the US. Hospitalizations, ICU admissions, and deaths are all increasing. CDC should unequivocally advise all Americans to mask in public places. I know it's politically unpopular, but so is dying. pic.twitter.com/qiD4Gy3TZj

— Jonathan Reiner (@JReinerMD) July 14, 2022
~ ~ ~
2. Last week, there were 4 states with 75% or more of its population in a high risk level.

Now it's 14 states.

Last week, there were 12 states with 50% or more of its population in a high risk level.

Now it's 23 states. pic.twitter.com/KXh6Ly1Xsx

— Jason L. Salemi, PhD, FACE (@JasonSalemi) July 14, 2022
~ ~ ~
Ok Definitive version now!

Thanks to @MichaelKDamron for doing it and @agvbergin for adding the Alt Text! https://t.co/x3GM0SOL87 pic.twitter.com/GJTbpDzdGG

— Prof. Christina Pagel 🇺🇦 (@chrischirp) July 16, 2022
~ ~ ~
2. During boarding, the air filtration system is usually not running. You know how stuffy it can get on board a plane on a hot day, when departure is delayed. Before take-off, the CO2 levels climb to eye-watering levels (it should be less than 700ppm) https://t.co/Ye2dVryz3y

— Dr Satoshi Akima FRACP 『秋間聰』 (@ToshiAkima) June 29, 2022
~ ~ ~
The perscription I called them for a refill of, they decided to give a year supply of because there are too many prescriptions to keep track of now and so my daughter and I still have our medication when shortages come later in the year.

— Danielle Mors (@danielle_mors) July 7, 2022
~ ~ ~
This graph is a draft for a Long Covid paper I'm working on. The paper will be a while, but I think it's important that people - and policy makers - understand the implications now.

It is *very* serious. pic.twitter.com/SV9xgmcK8s

— David Steadson #NAFO 🇦🇺🇸🇪🇺🇦🇪🇺🌍 (@DavidSteadson) July 11, 2022
~ ~ ~
It starts as a "simple infection" until YEARS later it becomes:

Long HIV…AIDS
Long HPV…Cervical Cancer
Long EBV…Multiple Sclerosis
Long HSV…Alzheimer's
Long HCV…Liver Cancer

CURRENTLY 1 in 13 Americans already have #LongCOVID.

We don't know how this story ends
Wear a mask

— Ebony Jade Hilton, MD (@EbonyJHilton_MD) July 13, 2022
Tips, general reading for public:
Ventilate.
Mask.
Vax.
Covid
A gov that listens to its public health team 👍

▪️masks in public indoor settings 😷
▪️free masks and RATs 🙌
▪️promoting boosters
▪️retaining isolation for household contacts of confirmed cases.

✅Ticking all the #vaccinesPLUS boxes https://t.co/trpfCmAKOq

— Caroline😷Dew (@Caro_Dew_) July 13, 2022
~ ~ ~
Good rule of thumb for those at low risk from Covid…if you share a space with someone wearing a mask, put one on too.

They may have cancer, a child at home with leukaemia, or they may look after their vulnerable parents.

The world needs more acts of kindness, not less.

— Dr Dan Goyal (@danielgoyal) July 14, 2022
Jan 6:
To Recap:
•Mike Pence didn't trust Secret Service on Jan 6
•Secret Service "missed" bombs set at DNC when VP Harris visited
•Secret Service didn't report when Trump assaulted them
•Secret Service deliberately deleted texts on Jan 5 & 6

And that's just the dirt we know.😳 Smh

— Qasim Rashid, Esq. (@QasimRashid) July 15, 2022
~ ~ ~
Is now a good time to mention Maria Butina's former boyfriend, the Overstock guy Patrick Byrne, was in the Oval Office urging TFG to do some crazy stuff? pic.twitter.com/rcJV1d5nkD

— SPIES&VESPERS (@SpiesVespers) July 13, 2022
~ ~ ~
https://twitter.com/DonLew87/status/1547038906603954179?s=20&t=IFzvx41GPmDsjem0uS5QQw
~ ~ ~
Cipollone isn't a hero & Pence isn't a hero. If they were we would know all the details, & would have known them during the 2nd impeachment, about the 12/21 meeting where sitting members of Congress who are currently running for re-election, got together to subvert the election.

— Joyce Alene (@JoyceWhiteVance) July 12, 2022
~ ~ ~
These 6 Republican Representatives attended a key meeting to plan to overturn the results of a free and fair election. Then, they begged for pardons.

Hope they like orange. pic.twitter.com/ocPM5DOcRO

— The Lincoln Project (@ProjectLincoln) July 12, 2022
~ ~ ~
This looks like a good place to drop this: pic.twitter.com/wX00yuDcri

— betsy (@betsyindtx) July 9, 2022
~ ~ ~
The Jan. 6 Committee names Republican members of Congress who were plotting with Trump on Dec. 21:

Brian Babin, Andy Biggs, Matt Gaetz, Louie Gohmert, Paul Gosar, Andy Harris, Jody Hice, Jim Jordan, and Scott Perry. Marjorie Taylor Greene (not yet in Congress) was also there.

— Kyle Griffin (@kylegriffin1) July 12, 2022
~ ~ ~
They lost 7 hrs of Jan 6 President schedule details. They erased text message on 1/5 and 1/6. They smeared Cassidy Hutchinson. Some not small portion appears to be openly pro-Trump. Pence did not trust them enough to get into car.

— Clara Jeffery (@ClaraJeffery) July 15, 2022
SCOTUS:
A reminder that SCOTUS struck down a MA law that created buffer zones around clinics to protect people from angry protestors. Scalia: "Protecting ppl from speech they don't want to hear is not a function of the 1st Amendment." https://t.co/XrTS1cYDUW

— Celeste Headlee (@CelesteHeadlee) July 8, 2022
~ ~ ~
"In one of her texts to Meadows, Thomas sent a dire message: "the most important thing you can realize right now is that there are no rules in war." That text also said, "This war is psychological. PSYOP." 1/https://t.co/nt5xKReMR5

— Rex Chapman🏇🏼 (@RexChapman) July 15, 2022
~ ~ ~
The Supreme Court was fine with people protesting at the homes of abortion clinic workers. Scalia, joined by his colleagues, said the first amendment doesn't exclude protests on public sidewalks. But none of this apparently applies to the justices making these decisions.

— Norman Ornstein (@NormOrnstein) July 8, 2022
~ ~ ~
Why should we obey a SCOTUS decision if Republican lawmakers won't obey a subpoena?
- asking on behalf of every goddamn law-abiding American

— Ken Olin (@kenolin1) July 11, 2022
~ ~ ~
"Justice Kavanaugh, there are angry protestors outside the restaurant!"

"Then we must abort the meal and escape."

"Back alley?"

"Yes...Unfortunately it's the only option we've got left."

— Liam Nissan™ (@theliamnissan) July 8, 2022
~ ~ ~
So well said that it even clarifies my thoughts. Politicians should be free from violence, harassment, and intimidation, but should expect criticism and peaceful protests according to first amendment rights. And Kavanaugh lied about his commitment to preserving settled law. https://t.co/KUi189cmET

— Jump, and you will find your wings (@Goat_Jump_Ranch) July 10, 2022
~ ~ ~
Morton's Steakhouse should rethink its billboards: pic.twitter.com/smhWK28mRI

— Michael Beschloss (@BeschlossDC) July 9, 2022
GOP:
~ ~ ~
Oops. Forgot to add my favorite one. "Total Public Debt as Percent of GDP," or as I like to call it, "Thanks, Ronnie!" pic.twitter.com/sKJVFrFN5S

— Ward Q. Abnormal Lifestyle Choice (@WardQNormal) December 15, 2019
Abortion:
A DFW woman was pulled over and ticketed for driving alone in the HOV lane. She's 34 weeks pregnant and tells the cop her unborn child counts as a passenger since Roe V. Wade was overturned. The state can't have it both ways, she argues. https://t.co/eFTvElIMhG

— Dom DiFurio (@DomDiFurio) July 9, 2022
~ ~ ~
Very happy to see this decision by @boardobgyn to boycott #Texas; it's unsafe for members to go there. Ob/Gyn Board Certification Exam Stays Virtual in Light of Dobbs https://t.co/LxP5bcpYIN

— Judy Stone (@DrJudyStone) July 16, 2022
~ ~ ~
Opponents of abortion rights are looking at the next phase in their campaign to stop people from ending their pregnancies — and they're targeting the advertising of abortion serviceshttps://t.co/24mhN6mN8y

— POLITICO (@politico) July 16, 2022
~ ~ ~
If women don't have a guaranteed right to travel, precisely what measures can states adopt to prevent them from obtaining abortions in a different state? How intrusive & restrictive can they be? Must you take a pregnancy test, submit to an exam to leave? https://t.co/zOsUVXee1B

— Joyce Alene (@JoyceWhiteVance) July 16, 2022
~ ~ ~
More Republicans push for abortion bans without rape, incest exceptions https://t.co/dTBItWUvso

— Judy Stone (@DrJudyStone) July 16, 2022
Ohio Gov. Mike DeWine (R), who is facing reelection, has so far declined to comment on the law he signed that prompted a 10-year-old rape victim this month to travel to neighboring Indiana for the procedure. In Texas, attorney general Ken Paxton filed a lawsuit Thursday to block Biden administration guidance that requires doctors to perform abortions when they believe the procedure is needed to stabilize a mother in an "emergency medical condition."
And in Washington, Democrats forced Republicans to oppose bills in
the House
 and 
Senate
 that would ensure women could travel across state lines for the procedure, after 
a June poll found
 that 77 percent of Americans opposed laws that would prevent such travel.
~ ~ ~
~ ~ ~
~ ~ ~
This is Democrat Joanna McClinton. She is the Democratic Leader of the Pennsylvania House. She has 3K followers. Please retweet and follow her: @Joanna4PA

— Adam Parkhomenko (@AdamParkhomenko) July 9, 2022
~ ~ ~
A Louisiana doctor prescribed Cytotec to make the insertion of an IUD less painful. Walgreens called the physician to ask if the prescription was for an abortion, she told them it was for an IUD & the pharmacist still refused to fill it. https://t.co/YGir1Skf3r

— Kat Macfarlane (@KatAMacfarlane) July 10, 2022
~ ~ ~
Women denied abortion are 4x more likely to live in poverty. They're more likely to be in poor health, more likely to be unemployed, and more likely to have bad credit.

With my whiteboard, I showed how government-mandated pregnancies can damage Americans' futures ⬇ pic.twitter.com/rNsRrCkWEv

— Rep. Katie Porter (@RepKatiePorter) July 13, 2022
~ ~ ~
~ ~ ~
~ ~ ~
A total lie: Americans United for Life CEO Catherine Foster says 10-year-old Ohio rape victim ending her pregnancy is "not an abortion." What? Why did the 10-year-old have to go out-of-state? MAGA GOP doesn't want you to know their abortion laws force pregnancies on little girls. https://t.co/bH9LVqaIrT

— Rep. Eric Swalwell (@RepSwalwell) July 14, 2022
LGBTQ:
Watch Professor Khiara Bridges HANDLE Josh Hawley.

✅Laughing at his attempts to seem reasonable and to denigrate her.
✅Dismissing his insincere attempts to deny trans people's existence
✅Calling his line of questioning about "what is a woman" transphobic.

Masterful. pic.twitter.com/iNjDaMSYfC

— ⚓️Imani Two-Kitchens Gandy⚓️ (@AngryBlackLady) July 12, 2022
Guns:
Gun manufacturers & distributors have been shielded from the mass destruction they cause for too long.

Today, CA changes that.

I just signed a bill that will allow victims of gun violence to sue the makers of these deadly weapons & hold them accountable. pic.twitter.com/S0AlrrkhML

— Gavin Newsom (@GavinNewsom) July 12, 2022
~ ~ ~
japan had one death from gun violence in 2021 (not including accident or suicide). one.

the united states had 220 last weekend.

— ian bremmer (@ianbremmer) July 8, 2022
~ ~ ~
Thursday's roll-out is the official start of The Yellow Bus Project and Cruz's house is the first stop for the NRA Children's Museum, which is coordinated by @ChangeTheRef.

The non-profit aimed at spotlighting mass shooting awareness and reducing the NRA'S public influence. pic.twitter.com/06x85ZbAv3

— MySA (@mySA) July 14, 2022
Antisemitism:
As first reported by @joesonka, some anti Semitism from the Bracken County Kentucky GOP pic.twitter.com/hUmr8lR7GO

— Jake Tapper (@jaketapper) July 15, 2022
~ ~ ~
I have drafted and redrafted tweets about this because I can't really find the words. I guess I'll just say that we are likely to look back and see this as among the most significant moments in our decline. And we should stand in solidarity w/the Jewish community in San Antonio. https://t.co/71T8xvmJhV

— Sherrilyn Ifill (@SIfill_) July 10, 2022
~ ~ ~
it flew a lil under the radar that Mastriano - who refuses to talk to mainstream press - sat down for an interview with Gab CEO Andrew Torba, who is an anti-Semitic piece of shit. "Thank god for what you have done," Mastriano told Torba. This is Torba: https://t.co/61HpDvA7Zs pic.twitter.com/1dR7hc1g91

— Christopher Mathias (@letsgomathias) July 15, 2022
Religion:
This is a terrifying video. Not only did Judge Debbra K. Halford allow a Mississippi abortion trigger ban to go into effect today, she began the hearing with a Christian minister praying "Lord… We seek your truth, not our own." pic.twitter.com/XSj9lj8l0U

— Guthrie Graves-Fitzsimmons (@GuthrieGF) July 6, 2022
~ ~ ~
Senator James Lankford said under oath that a 13-yr-old COULD consent to sex

Ohio Republicans say the rape of a 10-yr-old is an opportunity

TX AG Ken Paxton suggests the murder of 9-yr-olds at Uvalde is part of "God's plan"

Nothing more hateful than right-wing Christian love

— Lindy Li (@lindyli) July 10, 2022
~ ~ ~
On November 16, 2020 an organization called USATransform completed a 990 Tax form. For our purposes, a 990 reports information to the IRS from tax exempt political organizations. Accountants and tax lawyers can clean that up if they'd like. pic.twitter.com/QTfl9TSJwG

— Joe (@DempseyTwo) July 11, 2022
So what is USATransform? 'Compelled by the love of Christ, they seek to educate and encourage faith-oriented individuals and organizations to advocate for and advance positive outcomes in the social welfare and public policy arenas.' For the love of Christ.
Now that SCOTUS essentially ended the separation of church and state, it would be fair to say this 'political organization', is pushing hard in the *religious* 'public policy arena'. It's as if they are charitably advancing a Christian Nationalist Policy. A CNP if you will....
On January 4th, 2020 the Capitol Police approved a permit for a group called Women for a Great America / 50+ Days of Blessings. According to their permit, they were there to pray and worship for our nation. This was not the only permit issued to Christians...
You see, they didn't exactly market their presence at the Capitol as being prayerful so much as they called it a 'Battle Cry for the Republic.' They were going to be praying alright, but 'for war for god's purpose for our nation.' Who prays for war?
Whole thread at https://threadreaderapp.com/thread/1546598480055001090.html
~ ~ ~
Women denied abortion are 4x more likely to live in poverty. They're more likely to be in poor health, more likely to be unemployed, and more likely to have bad credit.

With my whiteboard, I showed how government-mandated pregnancies can damage Americans' futures ⬇ pic.twitter.com/rNsRrCkWEv

— Rep. Katie Porter (@RepKatiePorter) July 13, 2022
Racism/Disparities:
"To this day, Black children are far more likely than white children to report low or no swimming ability, a disparity that underlies other, grimmer statistics.

Black people drown at a rate 50 percent higher than that of white people…" https://t.co/oEw51EiKWF

— Oni Blackstock MD MHS (@oni_blackstock) July 9, 2022
~ ~ ~
They owned the house, which had been passed down to them by their mother and are now homeless.

The 14-year-old boy had stopped by to pick up a bike from the home-owner's nephew and hid when the raid started.

— Rebecca Kavanagh (@DrRJKavanagh) July 9, 2022
Healthcare:
An American experiences universal health care pic.twitter.com/xTuFPQ8BR4

— Dr. Glaucomflecken (Will Flanary) (@DGlaucomflecken) July 14, 2022
~ ~ ~
Elections:
Federal courts across the South have heard lawsuits challenging new voter suppression bills for violating the VRA and/or the Americans with Disabilities Act. https://t.co/QqYd1NI6ic

— Billy Corriher (@BillyCorriher) July 11, 2022
~ ~ ~
https://twitter.com/marceelias/status/1546989373400535043?s=20&t=BLydqAVLAVmCVLX8Fsxu8w
~ ~ ~
Worth a read: Is Ron #DeSantis getting ready to pull a Jeb Bush? https://t.co/o45kITmzb8 #VoterSuppression

— Judy Stone (@DrJudyStone) July 13, 2022
Florida:
No one should be forced to choose between their hard-earned Social Security benefits and being able to care for their families.

But that's exactly what Marco Rubio's new plan to undermine Social Security does. https://t.co/B73yViwXFP

— Florida Democrats (@FlaDems) July 7, 2022
~ ~ ~
Georgia:
"Our good air decided to float over to China's bad air so when China gets our good air, their bad air got to move. So it moves over to our good air space. Then now we got we to clean that back up."

- Herschel Walker

Yes, he actually said that.pic.twitter.com/KVA4ZYFGak

— TrumpsTaxes (@TrumpsTaxes) July 11, 2022
~ ~ ~
Herschel on the climate/Green New Deal/air:

"Since we don't control the air our good air decided to float over to China's bad air so when China gets our good air, their bad air got to move. So it moves over to our good air space. Then now we got we to clean that back up." pic.twitter.com/BsR4GVAbX7

— stephen fowler (@stphnfwlr) July 11, 2022
Indiana:
NEW: The powerful Indiana attorney Jim Bopp told POLITICO the 10-year-old Ohio girl who crossed state lines to receive an abortion here should have carried her pregnancy to term and would have been required to do so under his law. W/ @meganmesserly. https://t.co/QHns484kQQ

— Adam Wren (@adamwren) July 14, 2022
~ ~ ~
A law that recently went into effect in Indiana mandates that doctors, hospitals and abortion clinics report to the state when a patient who has previously had an abortion presents any of dozens of physical or psychological conditions — including anxiety, depression, sleeping disorders ---because they could be complications of the previous abortion. Not doing so within 30 days can result in a misdemeanor for the physician who treated the patient, punishable with up to 180 days in jail and a $1,000 fine.
While clinicians are generally required to have malpractice insurance, such coverage does not typically cover expenses related to criminal charges.
Pennsylvania:
What the hell is going on in PA? This is authoritarian and all to pass a constitutional amendment banning abortions and making it harder to vote. Watch @malcolmkenyatta points out their lies as GOP shuts off his mic then shuts the public from the debate. pic.twitter.com/E7u5IAjppJ

— Fred Guttenberg (@fred_guttenberg) July 9, 2022
~ ~ ~
Yikes pic.twitter.com/cjuAbZr7ZV

— Jake Tapper (@jaketapper) July 15, 2022
~ ~ ~
Another reason to vote for Josh Shapiro in PA: Doug Mastriano, the GOP nominee for governor of Pennsylvania, paid the far-right platform Gab a $5,000 "consulting" fee. Now, new Gab accounts are automatically following him. https://t.co/xvK5eQqdb2 via @HuffPostPol

— Judy Stone (@DrJudyStone) July 15, 2022
~ ~ ~
Ah yes, the trip to Pats + Geno's -- a rite of passage for every tourist. https://t.co/3v3iCe1y1k

— John Fetterman (@JohnFetterman) July 15, 2022
Ohio:
🚨Ohio Representative Click (HB 704) has introduced a bill that would effectively ban IVF, as well as various forms of birth control, on top of being extremely broad and vague. pic.twitter.com/oh1ZkoDNkX

— Kathryn Poe (@Poements) July 11, 2022
Texas:
Greg Abbott had the chance to #FixTheDamnGrid after Winter Storm Uri, but he chose to bail out his buddies instead.

So, now we've got a failing power grid in 100+ degree heat and with expected rolling blackouts across TX over the next 3 days. #ERCOT

— Texas Democrats (@texasdemocrats) July 11, 2022
~ ~ ~
"How to prepare for a blackout… ."
Texas life these days. Thanks @GregAbbott_TX. pic.twitter.com/JiFPKzhQ3T

— Julián Castro (@JulianCastro) July 11, 2022
~ ~ ~
Elon Musk:
"Free speech is the bedrock of a functioning democracy, and twitter is the digital town square where matters vital to humanity are debated" —Elon Musk pic.twitter.com/kMJmOgLZ8a

— Scott Galloway (@profgalloway) July 10, 2022
~ ~ ~
UK:
Larry the Cat, the appointed Chief Mouser of Downing Street, has now outlasted 3 UK Prime Ministers. He holds the true power over the country pic.twitter.com/Wdeb5InQ5f

— RTGame Daniel @Twitchcon EU (@RTGameCrowd) July 7, 2022
Other:
Do people (Americans) realize the next generation of high-speed rail coming to market could whisk you from the center of Chicago to the center of NYC in 2.5 hours with no airport hassle and we are literally buying highway expansions instead of this?https://t.co/txnuve9W2Z

— Travis R. Eby (@travis_robert) July 12, 2022
Ukraine/Russia
⚡️Official: Germany to stop buying Russian coal on Aug, 1, Russian oil on Dec. 31.

The statement was made by German Deputy Finance Minister Jörg Kukis at a conference in Sydney, Reuters reported.

— The Kyiv Independent (@KyivIndependent) July 13, 2022
Paul Rudd signed an Ant-Man helmet and sent a letter to a 12-year-old boy whose classmates were bullying him and refused to sign his yearbook 🙏 pic.twitter.com/XkGKgqMBGk

— Culture Crave 🍿 (@CultureCrave) July 8, 2022
~ ~ ~
BREAKING: Judge Ana de Alba, who grew up using a sleeping bag until she was 15 as the daughter of farmworkers in South Dos Palos, was sworn in as the first Latina to serve on the U.S. District Court for the Eastern District of California.
https://t.co/gevhAeaPJS

— Juan Esparza Loera (@JuanEsparzaLoer) July 8, 2022
~ ~ ~
Someone in my neighborhood made a Little Free Blockbuster and it's so cute! pic.twitter.com/T9ZMoAVbkq

— Tove Danovich (@TKDano) July 4, 2022
~ ~ ~
"my dog and i can't always visit my dad with dementia so i got him his own"
(jukin media) pic.twitter.com/6lHsQxszvQ

— theworldofdog (@theworldofdog) July 10, 2022
~ ~ ~
when u leave ur dog w/ grandparents pic.twitter.com/JSMUsnfeQ6

— ᴘᴀᴠʟᴏᴠ ᴛʜᴇ ᴄᴏʀɢɪ (@PAVGOD) July 12, 2022
~ ~ ~
'When I was growing up … there weren't any female role models' — Jane Goodall shares why she's elated that Mattel is releasing a Barbie doll version of herself pic.twitter.com/1Rfwqz5HdM

— NowThis (@nowthisnews) July 14, 2022
"We got hired to make a cover for All Quiet on the Western Front. Anyone here read the book and want to tackle it?"

"I've read the title"

"Good enough" pic.twitter.com/C4c0lRqeJ9

— Dagger-4 Seasons Total Landscaping (@dagger0621) July 15, 2022
~ ~ ~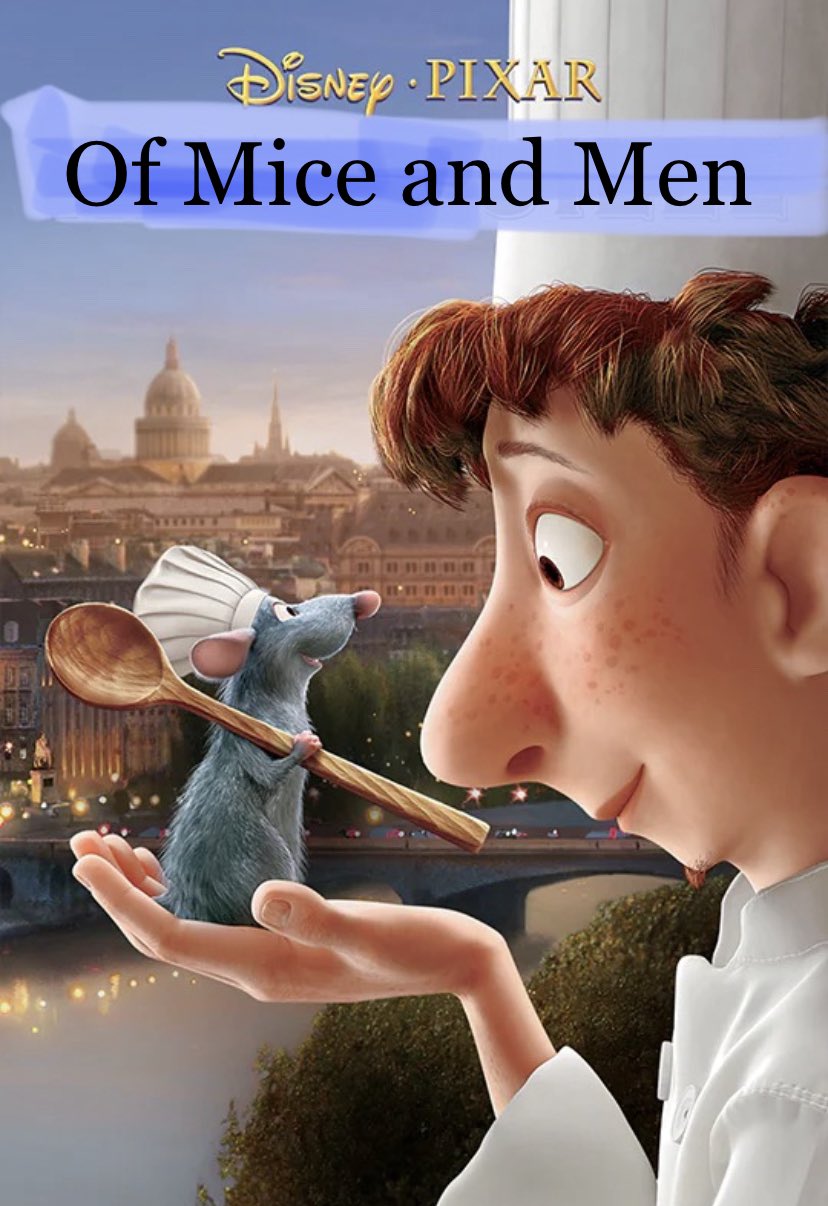 ~ ~ ~
https://twitter.com/buitengebieden/status/1545054274987577344?s=20&t=BLydqAVLAVmCVLX8Fsxu8w
~ ~ ~
https://twitter.com/buitengebieden/status/1544356459219238912?s=20&t=BLydqAVLAVmCVLX8Fsxu8w
~ ~ ~
Me looking in the bathroom mirror first thing in the morning. pic.twitter.com/katzM54PZt

— Paul Bronks (@SlenderSherbet) July 9, 2022
~ ~ ~
https://twitter.com/buitengebieden/status/1544606933805670401?s=20&t=BLydqAVLAVmCVLX8Fsxu8w
I once saw the longer quote which said something along the lines of; the axe was smart and convinced the trees that because his handle was made out of wood, he was one of them https://t.co/C3iZI3CdaP

— Lebone_Molepo (@LeboneMolepo) July 8, 2022
~ ~ ~
Influenced by feminists close to him, the chief of Mexico's Supreme Court helped pave the way for decriminalization of abortion.

"Some of us are in favor of the life of women being one in which their dignity is respected," he said. https://t.co/H9vOsOdrA6 pic.twitter.com/8PJYLSiuuj

— The New York Times (@nytimes) July 10, 2022
~ ~ ~
Over 70% of Americans support gun safety legislation, marriage equality, abortion rights, gov't funding for childcare, paid maternity leave, raising the minimum wage, and more

This country isn't divided. A radical, armed, anti-democratic minority is attempting a hostile takeover

— Mary L Trump (@MaryLTrump) July 6, 2022
~ ~ ~
This is one of the hardest but most important warnings of #Auschwitz for us today. Perpetrators were people who accepted & followed an ideology that convinced them that they are better than others, that rationalized and promoted hatred & evil. It became their everyday live. https://t.co/M8i6F7mSok

— Auschwitz Memorial (@AuschwitzMuseum) July 16, 2022
~ ~ ~
My grandmother's family was murdered in the chambers of Auschwitz. She survived and told me never let it get that far. Make them shoot you in public before they murder you in hiding. Stand up for others. Never cave in fear of the Nazis or the holocaust will happen again.

— Sara Spector (@Miriam2626) July 12, 2022
~ ~ ~
A reminder from Rose Cook. pic.twitter.com/WT6tho1zNd

— Nikita Gill (@nktgill) July 7, 2022
Bits of beauty: