Coronavirus Tidbits #254, July 16, 2023
Announcements:
First, there is now a Resources Page here for the most commonly asked questions I'm getting.
Happy to continue to answer your questions/concerns as best I can, so don't be shy about that.
Reminder, Resilience: One Family's Story... is increasingly pertinent, as some of our politicians shift rightward. All proceeds go to Holocaust education.
Available here.
~ ~ ~
Critical Ohio election coming up that will decide abortion (among other)
Watch this dynamite ad on what's at stake re privacy.
https://www.youtube.com/watch?v=z10j_H7zOb8&t=3s
Here is information on what's at stake with Issue #1, special election Aug 8.
Early voting has started.
https://votenoinaugust.org/facts/  and volunteer opportunities. Please help defeat this bill.
Covid:
To optimize performance of

SARSCoV2

rapid tests, if negative
If Asymptomatic—repeat 3 times at 48 hr intervals
If Symptomatic —repeat 2 times at 48 hr intervals
From a prospective study, largest to date, paired rapid tests and PCR https://acpjournals.org/doi/10.7326/M23-0385…
via Eric Topol Jul 3
The article also shows that testing 3x with rapids over 48hr caught 75% of asymp cases, compared to 10% detected with just one test
~ ~ ~
Gene linked to

#LongCovid

found in analysis of thousands of patients
https://www.nature.com/articles/d41586-023-02269-2
~ ~ ~
Long Covid:
From a new preprint of a 2-year, prospective follow-up cohort of unvaccinated individuals with Covid in Spain "Recovery is extremely rare [from #LongCovid] during the first 2 years [full = 7.6%], posing a major challenge to healthcare systems." https://papers.ssrn.com/sol3/papers.cfm?abstract_id=4505315
Those hospitalized with COVID, esp in the early pandemic, seem more likely to have forms of #LongCovid that are *not* the neurological form. The neuro form seems to last longer (& often overlaps with ME/CFS & dysautonomia, lifelong conditions). https://twitter.com/ahandvanish/status/1599538152435163137…
Other factors that correlated with INCREASED likelihood to recover from #LongCovid include: -being male -having cardiovascular comorbidities -lost appetite in acute phase -had smell/taste alterations (this is often its own subtype that can come with no other symptoms)
The risk factors for NOT recovering from #LongCovid were those with these issues in the acute phase: -muscle pain -impaired attention -dyspnea -tachycardia
The acute COVID symptoms that were more likely to signify #LongCovid included dysphonia, tinnitus, visual alterations, insomnia, neurocognitive complaints, sensory alterations, mucosal dryness, tachycardia, dizziness, abdominal pain, and others:
Of the 7.6% who did recover from #LongCovid, the median time to recovery was 11.4 months.
thread from Hannah Davis.
~ ~ ~
On transmission, a rant and cautionary tale:
Dr Bob Wachter, a prominent UCSF doc, has a long Twitter thread on his having gotten Covid. He took a hot shower because he was sweaty and uncomfortable, and he passed out, waking up in a pool of blood. Besides lacerations, he had a small subdural hematoma (bleeding surrounding the brain) and a C-spine fracture.
"By the way, I have no idea where I got Covid. Yes, I've been on clinical service but haven't had any Covid patients. And I wear a KN95 in clinical areas. Outside of patient care, I have taken my mask off for meetings in non-crowded rooms…" and dined with others...
My rant relates to the "no idea where I got Covid." Certainly he knows that asymptomatic people can spread infection. That's why we need to improve ventilation and environmental monitoring and encourage masking.
It's also a warning of some of the things that can go wrong. He could have easily been paralyzed from that fall. He may have lingering post-concussion symptoms on top of Covid. Be careful and wear masks. Cheap insurance!
~ ~ ~
One week ago, a court in California ruled that employers cannot be sued for spreading COVID to their workers due to lack of protections.  Now:
In-N-Out Burger is banning employees from masking w/o a doctor's note
see their policy here: https://mailchi.mp/innout/mask-policy-update-for-az-co-nv-tx-ut-associates
Please call them at 1-800-786-1000 and tell them how obscene this is. I did (and hope to write about them as soon as I get more of a response. I have to hear their side of it).
~ ~ ~
Other: 
H5N1/bird flu
increasingly being found in mammals, too prompting concern about spread to people.
~ ~ ~
Zika:
While not in the news, is still a big problem in Latin America, and now endemic.. Pregnant women are cautioned to avoid Costa Rica and Puerto Rico.
~ ~ ~
Rickettsia
Rickettisa Bacterium Orientia, associated with #scrubtyphus disease, found in NC chiggers https://medicalxpress.com/news/2023-07-bacterium-disease-nc-chiggers.html
~ ~ ~
Measles:
London measles warning: Outbreak could hit tens of thousands https://buff.ly/3NRWNjV
Diagnostics:
see News, above
New findings may explain why mRNA vaccines provide limited protection against omicron
Vaccination protects against severe COVID-19 but not against infection. Researchers at Karolinska Institutet and Danderyd Hospital now show that protection against infection with the new omicron variants is linked to mucosal IgA antibodies, which are not induced by vaccination. These are the findings of two studies recently published in The Lancet Infectious Diseases, and The Lancet Microbe, and could explain the limited protection by currently available vaccines against infection.
https://medicalxpress.com/news/2023-07-mrna-vaccines-limited-omicron.html?
Real-time biosensor detects Covid.
a team of scientists at Washington University in St. Louis reported in Nature Communications that they have developed an air monitor that can detect COVID-19. (Forbes). [Being developed for commercialization]
~ ~ ~
Important life-saving info: if you have a condition on the CDC's list of risk factors for COVID-19 you can get universal masking as an ADA accommodation. Here's some helpful info on how this applies to healthcare from
@PeoplesCDC here.
see news
Epidemiology/Infection control:
Covid:
@MeidasTouch Jul 15 Bizarre video
Absolutely disgusting and insane. The nypost
obtained video from a recent RFK Jr. event where he suggested COVID is a Chinese bioweapon "ethnically targeted" to "attack Caucasians and Black people" and to spare "Ashkenazi Jews and Chinese" people. He then falsely claimed the U.S. has spent hundreds of millions of dollars on labs in Ukraine to develop similar bioweapons that target people by their race.
~ ~ ~
Masking:
I have just been denied my request for N95 masking for an upcoming in person rheumatology appointment with Mercy Medical Group/Dignity Health because they "can't violate staff rights."
~ ~ ~
CDC cuts:
The debt deal rescinded about $27 billion in unspent federal money that had been allocated to fight COVID. It also led the CDC to remove $400 million in funding  to states for workers who fight the spread of sexually transmitted infections, according to an email obtained by CQ Roll Call.
... the cut amounts to 10% or more of their previous year's award.
The targeted cut will affect programs that identify communities vulnerable to disease outbreaks,
~ ~ ~
Abortion/Reproduction
FDA approves OTC oral contraceptive
Opill (norgestrel)
is a progestin-only oral contraceptive that can be taken daily and purchased without prescription at drug stores, convenience stores, grocery stores and online.
~ ~ ~
Wow. Mike Pence says he would ban abortion even when the pregnancy isn't viable — in other words, he'd force women to carry a doomed pregnancy to term just so they could go through the trauma of delivering a dead fetus. apnews.com/article/mike-p
~ ~ ~
Antisemitism:
~ ~ ~
GOP:
The current Marine Corps commandant is required to retire on Monday, but due to a hold on hundreds of military promotions by Sen. Tommy Tuberville, there is no confirmed replacement. If this continues, other branches will face the same problem soon.
to.pbs.org/3ptx2yw
~ ~ ~
~ ~ ~
LGBTQ:

Citing the new Supreme Court, a Traverse City, Michigan hair salon has stated that it will no longer accept LGBTQ customers. She called them pedophiles and compared them to animals who should go to "pet groomers."
We told you it wasn't just about a cake or a website.
~ ~ ~
In a twist that truly everyone could have predicted, a judge in Texas is using the Supreme Court's ruling in 303 Creative to claim that she can refuse to marry same-sex couples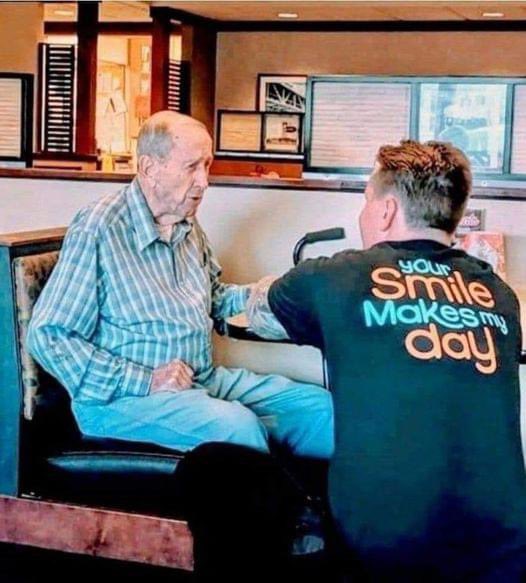 "The elderly gentleman was seated in the booth directly across from my family as we ate dinner Saturday night at Eat'n Park in Belle Vernon. We really didn't see him come in. But we did notice when our server, Dylan, dropped to one knee to look him eye-to-eye as he got ready to take his order. The man apologized for not hearing too well. He had forgotten to put in his hearing aids. He talked about how he lost his hearing during his time in the war. He was 91 years old with many stories to tell. Dylan patiently listened giving him his full attention. Eventually the man apologized for talking so much. 'I'm alone now,' he said, 'and I don't often have someone to talk to.' Dylan smiled and said he enjoyed listening. He then helped him figure out what to order and left to take it to the kitchen. It was a touching sight. I wanted offer to pay for the man's dinner, but before I could flag down Dylan, a man seated at a nearby booth asked Dylan to bring him his check. 'Someone's already taken care of it,' Dylan smiled. I guess we weren't the only ones eavesdropping on the conversation. After the man received his food Dylan came back to say he was on a break. He asked if he could sit with the gentleman as he ate. As we left the restaurant the two of them were conversing and many people seated nearby were smiling. It was a touching sight. With all of the negative stories about our youth today this was a breath of fresh air. I wonder if I would have been as kind and attentive if I were the one working there. One thing's for sure, if you are ever at Eat'n Park in Belle Vernon, ask for Dylan. If he's your waiter you're certain to get great service."
Credit: Lisa Meilander
~ ~ ~
#PatientsNotPatents
(
@johngreen
@sportswithjohn
@PIH
@MSF
) successfully pushed
@JNJNews
to allow generics of TB drug
#bedaquiline
.
@StopTB
will provide the drug to low- & middle-income countries to treat multidrug-resistant
#tuberculosis
.
bit.ly/46H0th4
Bits of beauty: