Coronavirus Tidbits #265, Oct 1, 2023
Quick links
News     Diagnostics     Drugs    Devices    Epidemiology/Infection control     Tips     Politics    Feel good du jour     Comic relief     Perspective/Poem     Bits of beauty
Announcements:
First, there is now a Resources Page here for the most commonly asked questions I'm getting.
Happy to continue to answer your questions/concerns as best I can, so don't be shy about that.
Posts:
LTE in Cumberland Times News 9/25
UPMC policies risk infecting patients with COVID
As of May 1, UPMC Western Maryland dropped the requirement for staff to mask when caring for patients. They say that patients may request that staff mask, and they would "consider this." This is problematic. First, many patients may be too acutely ill or unable to speak. Some may be confused, others unresponsive. And many patients, sick and vulnerable, are simply afraid of alienating the staff caring for them.
As a patient advocate, I recently asked nursing staff on two units to mask when caring for a close friend. I was told there was no requirement for them to do so. Despite our asking, compliance was sporadic.
No one should risk a hospital-acquired COVID infection. The death rate from them is significantly higher than from community-acquired infections. Besides death, at least 10% of infected people develop long COVID, many of them still debilitated years later. Reinfections carry an increased risk for this.
We know that many employees work even though they are ill, risking transmission of this airborne pathogen to patients. People are testing less than they used to. Also, a significant number of cases are transmitted from asymptomatic patients both to staff and other patients.
The CDC recommends additional precautions based on community levels of COVID – but who would know? Patient testing is less frequent now that tests are $25/box. Wastewater testing was stopped in Cumberland more than a year ago. We are making judgments in a vacuum caused by denial and wishful thinking.
UPMC doesn't share any information with the public about ventilation and filtration of the air in our community's hospital.
Our first obligation as health care workers is to do no harm. It is simply unethical not to mask to protect vulnerable patients. We must bring back masks in hospitals, nursing homes and other places with at-risk people.
Judy Stone, MD Medical consultant for Women's Action Coalition
~ ~ ~
New post in Forbes:
These Are The Best #Masks To Protect You From Anti-Maskers A post born from listening to Shira Doron's talk about #Covid19 and #LongCovid. With thanks to Michael Olesen and Pantea Javidan.
 https://forbes.com/sites/judystone/2023/09/30/these-are-the-best-masks-to-protect-you-from-anti-maskers/…   #RiskAssessment #HICPAC
News 
Free Covid Tests available
4 per household through
~ ~ ~
#SARSCoV2 can directly infect and replicates in coronary arteries
which promotes atherosclerotic plaque inflammation and cardiovascular risk https://nature.com/articles/s44161-023-00336-5… by@nyulangone  colleagues
~ ~ ~
Concerns about Molnupiravir
Scientists detail link between molnupiravir and SARS-CoV-2 mutations
CIDRAP   September 26, 2023
A new paper suggests scientists are worried about molnupiravir's capacity to trigger SARS-CoV-2 mutations, echoing concerns that were raised even before countries approved it for emergency use in late 2021 as the Omicron variant arrived on the scene.
Writing in Nature yesterday, a team of researchers from the United Kingdom and South Africa described mutations from samples in some patients who were treated with the drug. The team also found evidence that the mutated virus can transmit, though they said no variants of concern carry the mutation.
Persistent concerns about the drug's mechanism
Molnupiravir's antiviral activity stems from its ability to kill the virus by inducing mutations designed to take away its ability to replicate. As regulators weighed the risks and benefits of the drug during the emergency use approval process, they worried about whether the treatment could not only drive the arrival of new SARS-CoV-2 variants, but also trigger mutations in the cells of people who take the drug. Treatment guidelines recommend against using the drug in pregnant women unless no other options are available.
Authors of the Nature study described their findings in a January preprint, and other scientists have also raised concerns about whether the use of molnupiravir could trigger novel variants.
https://www.cidrap.umn.edu/covid-19/scientists-detail-link-between-molnupiravir-and-sars-cov-2-mutations
~ ~ ~
Why is long Covid more prevalent among women?
Much of how Covid impacts our bodies in the long term remains a mystery. But new data released by the National Center for Health Statistics Tuesday sheds some light on who is most impacted by long Covid, defined as contending with symptoms three or more months after they first became infected with the virus.
Some 6.9% of adults in the U.S. are estimated to have ever experienced long Covid as of 2022. The results varied by race, with Hispanic people the most likely to have had long Covid.
Long Covid was most prevalent among women, 8.5% of whom had experienced the condition as of 2022, compared to 5.2% of men. The trend was echoed in pediatric cases, with 1.6% of girls ever having long Covid versus 0.9% of boys. Researchers have previously theorized that differences in immune function between men and women may lead the latter group to mount a more robust and rapid response. That could help reduce the initial infection, but potentially increase their vulnerability to prolonged autoimmune-related diseases.
https://marketing.statnews.com/morning-rounds-september-26?
~ ~ ~
Months after hospitalization for COVID-19, MRIs reveal multiorgan damage
Largest study of its kind finds various abnormalities-but no lingering heart problems
Science  BYCATHERINE OFFORD  22 SEP 2023
Since early in the pandemic, researchers and physicians have known all too well that COVID-19 can affect various organs, such as the brain, lungs, heart, and kidneys. But how long does the damage linger, and what does it mean for a patient's recovery? Imaging studies investigating long-term effects of COVID-19 have often focused on one organ at a time, limiting what scientists could learn about the disease's internal impact.
Now, in one of the most comprehensive post-COVID-19 MRI studies to date, scientists have found that about 6 months after being infected, some 60% of hospitalized patients showed abnormalities in multiple organs, especially the brain and lungs, compared with 27% among people who had never had the disease. Patients' hearts, however, looked no different from those of uninfected people-a result that surprised scientists, as previous research suggested SARS-CoV-2 can wreak havoc on that organ.
"This is an intriguing study … and adds to the growing literature on multiorgan impacts after severe COVID-19 infection," says Linda Geng, a clinician-researcher at Stanford University School of Medicine. She and others caution that the new findings only reveal associations between COVID-19 and organ damage; they don't prove infection caused that damage or explain how it occurred.
https://www.science.org/content/article/months-after-hospitalization-covid-19-mris-reveal-multiorgan-damage
~ ~  ~
 comprehensive lab assessment of #LongCovid
including the immune system, cortisol, other viral pathogens (such as EBV), & proteins differentiates those affected (aligned w/ self-reported symptoms) with very high (96%) accuracy https://nature.com/articles/s41586-023-06651-y
@EricTopol Here, 273 individuals with or without LC were enrolled in a cross-sectional study that included multi-dimensional immune phenotyping and unbiased machine learning methods to identify biological features associated with LC. Marked differences were noted in circulating myeloid and lymphocyte populations relative to matched controls, as well as evidence of exaggerated humoral responses directed against SARS-CoV-2 among participants with LC. Further, higher antibody responses directed against non-SARS-CoV-2 viral pathogens were observed among individuals with LC, particularly Epstein-Barr virus. Levels of soluble immune mediators and hormones varied among groups, with cortisol levels being lower among participants with LC. Integration of immune phenotyping data into unbiased machine learning models identified key features most strongly associated with LC status. Collectively, these findings may help guide future studies into the pathobiology of LC and aid in developing relevant biomarkers. [Paywalled]
https://www.nature.com/articles/s41586-023-06651-y
~ ~ ~
Other: 
"Tyson Foods and Perdue Farms, which together produce a third of the poultry sold in the United States, are under federal investigation into whether they relied on migrant children to clean slaughterhouses, some of the most dangerous work in the country."
https://www.nytimes.com/2023/09/23/us/tyson-perdue-child-labor.html?
~ ~ ~
Another link between the Great Barrington Declaration and Charles Koch (and other right-wing billionaires).
Tax disclosure shows $75k to fund a report "Covid-19, Lessons we should have learned" from Jay Bhattarcharya
~ ~ ~
FLIGHT RISKS
Science  27 SEP 2023 BY JON COHEN
Migratory birds efficiently ferry pathogens around the world. As a warming climate reshapes their journeys, infectious disease experts are on guard for new threats to humans.
https://www.science.org/content/article/changing-bird-migrations-threaten-bring-new-infectious-diseases-humans
~ ~ ~
Emerging Viruses
NewHampshire has now reported 13 Jamestown Canyon Virus infections and 8 Powassan virus cases. JCV is spread by mosquitoes, and the United States averages about 23 neuroinvasive JCV cases each year, – CIDRAP
~ ~ ~
Potential Kaiser Permanente Strike
will affect the more than 12 million people served by Kaiser's 39 hospitals and 715 medical offices in California, Colorado, Oregon, Washington, Hawaii, Georgia, Washington, D.C., Maryland, and Virginia. The unions involved represent about 40% of Kaiser staff.
The unions involved consist of ancillary health care staff like surgery, radiology, and pharmacy techs; phlebotomists; food service staff; security officers; respiratory therapists, and more, at 39 Kaiser hospitals around the country. The priorities of the two parties appeared misaligned in their conversations with STAT, with union representatives bringing up short-staffing issues as their top concern, and Kaiser promising to negotiate on wages and benefits.
statnews.com/2023/09/21/kaiser-permanente-strike-why/? (paywall)
~ ~ ~
5 reasons healthcare needs 'ownership transparency' now
Dave Pearson | September 26, 2023 | Health Exec | Business Intelligence
Do you know who owns your personal favorite doctor's practice? Could it be a healthcare conglomerate? An insurance company? A private equity firm? Amazon?
Of course, it might be any of the above. And that's a problem, according to the authors of a paper published Sept. 22 in Health Affairs.
"Patients need to know whether their physicians are employed by corporate entities with vested financial interests, as these relationships may influence the accessibility, affordability and quality of health care services,"
https://healthexec.com/topics/healthcare-management/business-intelligence/5-reasons-healthcare-needs-ownership-transparency-now
Diagnostics:
https://x.com/michaelmina_lab/status/1706584204723524021?s=20
Drugs and Vaccines:
(Is there any question???) Did the government get a bad deal on the #Covid19 boosters? https://www.statnews.com/2023/09/28/covid-vaccines-higher-price/ via @statnews
Price gouging by Moderna and Pfizer.
~ ~ ~
Uptake of new Covid vax
online and telephone poll, conducted during the second week of September, found that 23% will definitely get the new COVID vaccine and 23% will probably get it. As in earlier polls, vaccination intentions reflect a political divide, with Democrats more likely to be vaccinated than Republican respondents.
Fewer than 4 in 10 parents said they will get their kids vaccinated against COVID.
most (58%) of adults have already received or plan to receive the flu shot. Also, most (60%) of adults ages 60 and older said they have already gotten or plan to receive the new respiratory syncytial virus (RSV) vaccine. Partisan divides for flu and RSV vaccines were still present, but not as sharp as for the COVID vaccine.
https://www.cidrap.umn.edu/covid-19/new-poll-finds-nearly-half-adults-expect-get-new-covid-vaccine
~~ ~
Vaccines, anti-vax, and political party;
latest @KFF poll https://kff.org/coronavirus-covid-19/press-release/poll-nearly-half-of-adults-expect-to-get-the-new-covid-19-vaccine/
~ ~ ~
The danger of Molnupiravar:
extensive evidence of specific #SARCoV2 mutations this drug has induced across the world which can be passed along from people who do not clear the virus https://nature.com/articles/s41586-023-06649-6…
Devices and Masks
New material captures viral particles
-including #SARSCoV2-& could transform face mask efficiency. UK scientists created new material. Particles attach to silica in a *bioaerosol capture.* New material used in conventional mask was ~93% more efficient
https://medicalxpress.com/news/2023-09-material-captures-coronavirus-particles-mask.html
… #Mask  @DelthiaRicks   Sep 26 ~ ~ ~ Nicolas Smit   @PPEtoheros 11/28/21 The CDC bans the use of surgical masks & recommends elastomeric respirators for HCWs around Covid patient + in March, OSHA told workplace inspectors they recommended an
upgrade from N95s to elastomeric respirators in the most dangerous Covid environments.
https://osha.gov/memos/2021-03-12/updated-interim-enforcement-response-plan-coronavirus-disease-2019-covid-19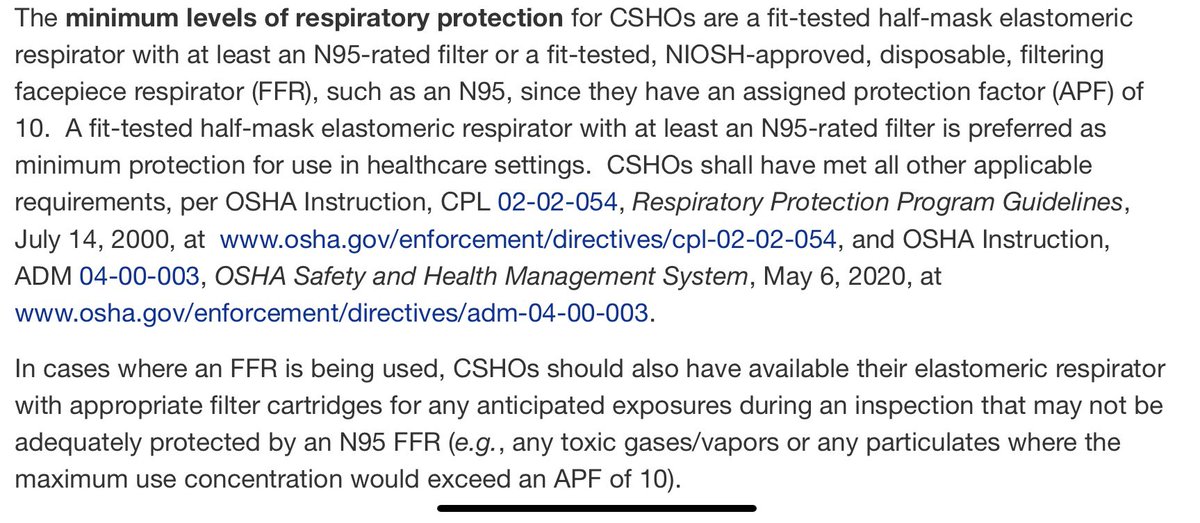 Epidemiology/Infection control:
Cleveland Clinic: Medical Students are creating comfort through cuddling (in NICU)
@catladyactivist   Sep 26 Cleveland Clinic has med students cuddling NICU babies…in GLOVES but no respirator. This is the most deliberately negligent thing I have ever witnessed. If these babies catch #COVID I hope the lawsuits ruin everyone responsible for this brazen malpractice. #MASKSINHEALTHCARE
Tips, general reading for public:
Ventilate
Vax
Mask
Politics:
Covid:
@justthefacts85   Sep 27
Covid no longer an excused absence
at Westfield State University in Mass. Per email sent today: "As the pandemic has passed, the dean of students office and health services will no longer be providing permissions to students for class absences." 1/
https://westernmassnews.com/2023/09/27/westfield-state-university-changes-covid-19-attendance-policy/…
Show this thread ~ ~ ~
Gender:
Women of all ages pay a total of $15.4 billion more than men on annual out-of-pocket medical expenses, according to a new report from Deloitte. In 2021, that meant that women paid about 20% more than men – only 2% of which could be accounted for by maternity care.
https://www.statnews.com/2023/09/29/female-patients-medical-expenses/
~ ~ ~
LGBT:

@ErinInTheMorn   Sep 27 A
Montana judge has blocked the state's gender affirming care ban
, citing overwhelming medical evidence for care. This ruling is a landmark ruling as it was done in a state court, which may protect it beyond federal rulings. ~ ~ ~
Catholics:
The Catholic Archdiocese of Baltimore has filed for bankruptcy protection, less than two days before a new state law takes effect allowing victims of child sexual abuse to sue institutions, no matter how long ago the abuse took place
https://www.washingtonpost.com/religion/2023/09/29/catholic-bankruptcy-baltimore/
~ ~ ~
Antisemitism:
"The White House on Thursday took new steps to fight antisemitism, with eight federal agencies officially declaring that an essential civil rights protection outlaws antisemitism amid a rise in hate crimes targeting Jewish people." (also Islamophobia) ~ ~ ~
GOP, TFG
Outgoing CJS Chair Milley hits Trump at retirement ceremony: "We don't take an oath to a king, or queen, or a tyrant or a dictator. And we don't take an oath to a wannabe dictator …we take an oath to the Constitution … and we're willing to die to protect it". 9/29/23 ~ ~ ~ Trumpists are becoming unusually explicit in acknowledging they want to regain power so they can engineer political prosecutions of people they disagree with.
https://mediamatters.org/fox-news/trumpist-media-demanding-politicized-justice
~ ~ ~ Raskin on Marjorie Taylor Greene: "I would like the member to be instructed to not introduce any pornography today" ~ ~ ~ Rep. Jamie Raskin just moved the House GOP's Impeachment Inquiry to subpoena Rudy Giuliani and
@levparnas
for direct eye-witness testimony about their main allegations against President Joe Biden. Republicans just voted 20-19 to TABLE THE MOTION, keeping the key witnesses away! ~ ~ ~ Military members & air traffic controllers will work without pay because of: Matt Gaetz-FL Tim Burchett-TN Anna Paulina Luna-FL Eli Crane-AZ Andy Ogles-TN Matt Rosendale-MT Andy Biggs-AZ Dan Bishop-NC Wesley Hunt-TX Cory Mills-FL If you voted for them, the
shutdown
is your fault ~ ~ ~ During a shutdown –> Members of Congress: Get paid Congressional staffers: No pay, but get backpay Congress' janitorial/cafeteria contractors: No pay, no backpay
Feel good du jour:
Elementary school teacher Brooke Hughes  brought foster puppies to class. It went viral on TikTok. – Helps the kids with social skills and learning to read.
https://www.inquirer.com/news/nation-world/tiktok-foster-puppies-elementary-class-hanby-brooke-hughes-20230919.html
~ ~ ~
@maartenvda   Jan 8 A Dutch supermarket chain introduced
slow checkouts
for people who enjoy chatting, helping many people, especially the elderly, deal with loneliness. The move has proven so successful that they installed the slow checkouts in 200 stores. ~ ~ ~ Actor
Zach Galifianakis
paid an old homeless woman's rent for decades and spent time with her as she lost her family. When Zach Galifianakis met Marie "Mimi" Haist, she was volunteering in a laundromat, surviving off tips left by customers. She was only allowed to sleep between the washers and dryers so customers couldn't see her. Haist revealed that she became homeless after her divorce and had been on the streets for decades. Even though Galifianakis was an unknown comedian at the time, he found a comfortable apartment for her and paid her rent. Galifianakis became a Hollywood star after filming alongside Bradley Cooper in the "Hangover" movie trilogy. However, his fame didn't affect his heart, and he remained down-to-earth. He maintained a strong bond with Haist and even walked a red carpet with her as his date. "If he's in town, he takes me … I dress up nice, and a friend helps me with my makeup. It's fun, not something I've ever dreamed I'd experience. The limo takes me home afterward," revealed Haist. Their friendship lasted nearly 27 years until she died at 96 years old.
Comic relief:
https://x.com/buitengebieden/status/1705885168848756855?s=20
~ ~ ~
https://x.com/buitengebieden/status/1705840066218635506?s=20
~ ~ ~
https://x.com/contextdogs/status/1707779768371081366?s=20
~ ~ ~
https://x.com/contextdogs/status/1707624787722318142?s=20
~ ~ ~
https://x.com/buitengebieden/status/1707095927209550241?s=20
Perspective/Poem
Reality Winner was denied bail for sharing one classified document showing US intel that Russians attempted to penetrate voting software. Trump is not only roaming free, but campaigning to be President and attacking prosecutors in his case.
TFG is also threatening judges/prosecutors and said that Gen. Milley should be executed.
Violated bail by showing off the Glock he wanted to buy.
Bits of beauty: