Coronavirus Tidbits # 258 August 13, 2023
Announcements:
First, there is now a Resources Page here for the most commonly asked questions I'm getting.
Happy to continue to answer your questions/concerns as best I can, so don't be shy about that.
Reminder, Resilience: One Family's Story... is increasingly pertinent, as some of our politicians shift rightward. All proceeds go to Holocaust education.
Available here.
New post:
Food Supplements Are Transforming Tuberculosis Survival In India
Note: The increased survival by providing food and micronutrients is likely not just true in India, nor just for TB. Why isn't nutrition a priority in taking care of people?
EG.1 Omicron subvariant (Eris), a descendant of XBB.1.9.2, continues its steady rise.
Very good summary by @cmyeaton on the U.S. Covid situationhttps://t.co/SBnl6S9iLg pic.twitter.com/K6STGlFt90

— Eric Topol (@EricTopol) August 12, 2023
~ ~ ~
US is nearing 500k estimated infections per day (Aug. 9) from New wastewater numbers 484,000 new infections/day 1 in every 680 people were infected today 1 in every 68 people currently infected
~ ~ ~
8/7: Most markers show more small rises for fourth straight week
Hospitalizations—one of the main markers—were up 12.1% compared to a week ago. However, the CDC notes that hospital admissions for COVID are currently low for more than 99% of the country....
Other early indicators of increasing virus activity continue to slowly rise. ED visits rose 21.8% compared to a week ago, but as a whole, COVID infections make up only 1% of all ED visits.
Test positivity, another early marker, rose 1.3% compared to a week ago and is at 8.9% nationally [now 10.6% per Benjamin Renton on 8/5].
Wastewater tracking also reflects more rises, with all regions seeing a consistent rise with projected infections daily infections back to medium levels compared to the earlier Omicron months,
~ ~ ~
Cases notably increasing in NYC. Covid pediatric admissions are the highest they've been since August 2020 in NYC right now.
~ ~ ~
Global COVID cases up 80% as new subvariant rises
The number of new COVID-19 cases reported worldwide rose by 80 percent in the last month, the World Health Organization said on Friday, days after designating a new "variant of interest".
https://medicalxpress.com/news/2023-08-global-covid-cases-subvariant.html?
~ ~ ~
Patients hospitalized with COVID-19 found to face nearly twice the rates of death after discharge as patients with flu
As of June 2023, more than 1.1 million Americans have died of COVID-19. Adults older than 65 —who make up just 16 percent of the population—account for more than 75 percent of U.S. COVID-19 deaths and were hospitalized at three times the rate of younger people, highlighting the heightened vulnerability of this population.
https://medicalxpress.com/news/2023-08-patients-hospitalized-covid-death-discharge.html?
~ ~ ~
More on Eris
EG.5, dubbed "Eris". And it's already soaring as #COVID19 case rates rise. Eris is also sweeping across East Asia and has turned up in the USA. #SARSCoV2 is still evolving: it's not "gone." https://livemint.com/science/health/who-sounds-alarm-as-covid-19-new-variant-eris-cases-in-uk-rise-sharply-11691244840752.html
~ ~ ~
Heart, other organs show mitochondrial damage after COVID-19 despite recovery of lungs
Key takeaways:
Downregulation of mitochondrial genes in the heart and other organs persists after recovery from SARS-CoV-2 infection.
These findings indicate COVID-19 may be "a systemic disorder that impacts multiple organs."
"This study provides us with strong evidence that we need to stop looking at COVID-19 as strictly an upper respiratory disease and start viewing it as a systemic disorder that impacts multiple organs," Douglas C. Wallace, PhD, director of the Center for Mitochondrial and Epigenomic Medicine at CHOP, said in the release. "The continued dysfunction we observed in organs other than the lungs suggests that mitochondrial dysfunction could be causing long-term damage to the internal organs of these patients."
https://www.healio.com/news/cardiology/20230809/heart-other-organs-show-mitochondrial-damage-after-covid19-despite-recovery-of-lungs
~ ~ ~
SARS-CoV-2 can damage mitochondrion in heart, other organs, study finds Mitochondrial dysregulation leads to long-term damage and may help explain long COVID, the authors say. https://ow.ly/B1G950PwaiK
~ ~ ~
Among 15 million people, Covid vaccination linked to a marked reduction of Type 2 diabetes, compared with unvaccinated or before vaccines were available. Once T2D was manifest, it was durable in >70% https://medrxiv.org/content/10.1101/2023.08.07.23293778v1
~ ~ ~
Long COVID symptoms may emerge months after SARS-CoV-2 infection,
data from the prospective multicenter INSPIREopens in a new tab or window study suggested.
For about 16% of study participants, symptoms lasted 12 months after their initial SARS-CoV-2 test....
The survey also found that one in four people with long COVID (26.4%) had significant activity limitations,
https://www.medpagetoday.com/neurology/longcovid/105849?
~ ~ ~
"In a highly vaccinated population (94% with >=3 vaccine doses), almost 20% of persons infected with the SARSCoV2 Omicron variant reported symptoms consistent with LongCOVID 90d post diagnosis"
Large study/Important confirmation again
#preprint
medrxiv.org/content/10.110
~ ~ ~
'Underwhelming': NIH trials fail to test meaningful long Covid treatments — after 2.5 years and $1 billion
[Excellent and understated assessment.]
On July 31, after 2.5 years and a $1 billion mandate from Congress to study and treat long Covid, the NIH launched clinical trials for a condition that has brought debilitating symptoms to some people suffering since the pandemic's earliest days. NIH has spent most of that money, according to a new and detailed budget breakdown shared with MuckRock and STAT. Most of the funds support observational research — studying symptoms — rather than clinical trials to test treatments.
Scientists and patients are disappointed that only 15% of the funding — $171.5 million — went to clinical trials, under the leadership of Duke University's Clinical Research Institute. This funding "has been largely wasted," said David Putrino, director of rehabilitation innovation at Mount Sinai and a clinician studying long Covid. If those clinical trials fail, it would be "really a travesty," said Julia Moore Vogel, a scientist at the Scripps Translational Institute living with long Covid. Read more.
https://www.statnews.com/2023/08/09/long-covid-nih-trials/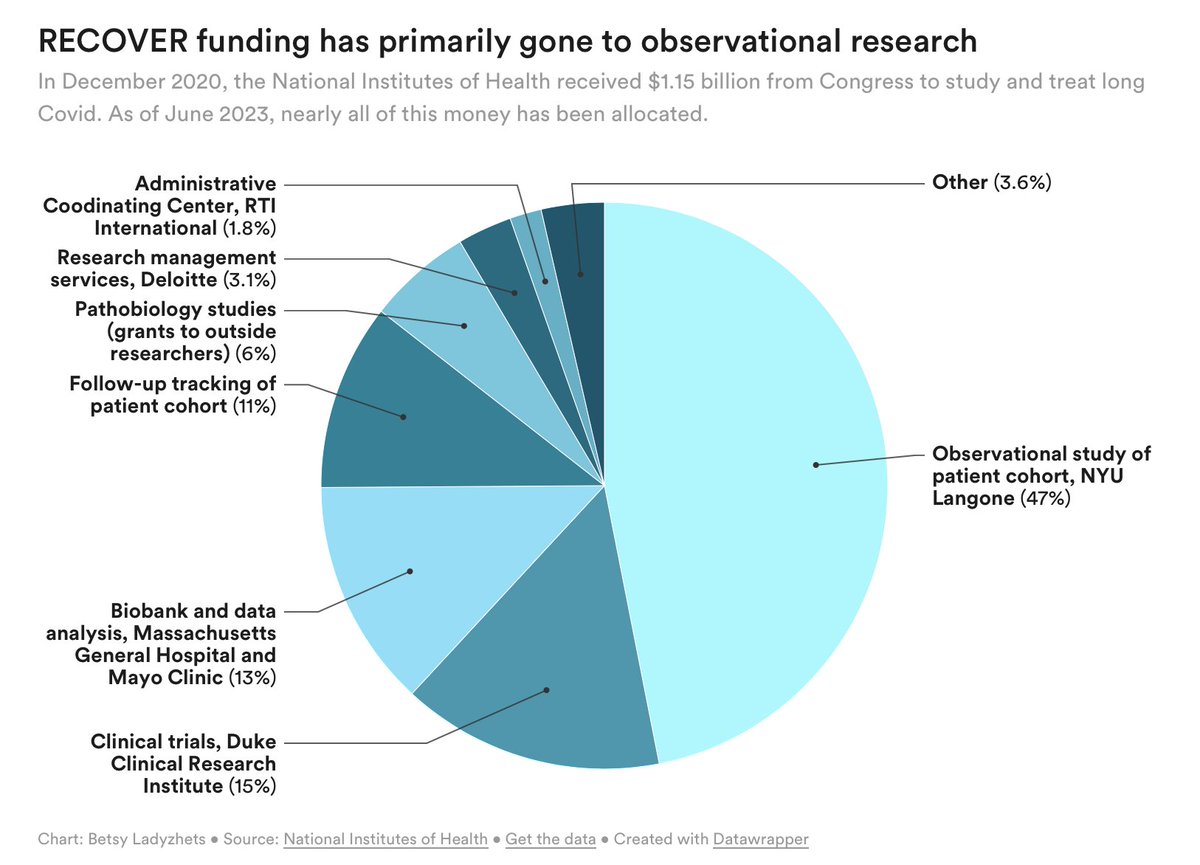 ~ ~ ~
More than 3 years in, with tens of millions of people still suffering, this is the comprehensive list of validated treatments for #LongCovid, as established through rigorous, randomized clinical trials pic.twitter.com/No9u0zvD34

— Eric Topol (@EricTopol) August 9, 2023
~ ~ ~
The NIH's acting director appears to have killed a $150 million dollar project aimed at studying health communications over its fraught political implications, KFF Health News reported.
~ ~ ~
Other:
H5N2 (swine) flu:
A novel influenza virus has infected a person in Michigan, making them sick enough to go to the hospital. The virus belongs to H1N2, a swine flu group. The person was around pigs at a state fair. They're recovering. We are always one step away.
~ ~ ~
H5N1 Bird flu:
#H5N1
#birdflu
is devastating fur farms in the west of Finland.
@DrewQJoseph
reports on the work being done to see if the threat to birds and some mammals like mink & foxes is evolving to be a bigger threat to people.
~ ~ ~
More than 40% of infection-related deaths in Americas associated with antimicrobial resistance
Key takeaways:
In 2019, 569,000 deaths were associated with bacterial antimicrobial resistance in the Americas.
The deadliest pathogens were Staphylococcus aureus, Klebsiella pneumoniae and Streptococcus pneumoniae.
More than two out of every five infection-related deaths in the Americas in 2019 were associated with bacterial antimicrobial resistance, according to a new study.
Deaths attributable to antimicrobial resistance (AMR) in the 35 countries that make up the Americas accounted for more than 11% of the total global deaths attributable to resistant infections, researchers found.
https://www.healio.com/news/infectious-disease/20230808/more-than-40-of-infectionrelated-deaths-in-americas-associated-with-antimicrobial-resistance
~ ~ ~
Phage therapy for antibiotic resistance
Anti-bacterial virus treated antibiotic resistant infections with 86.6% success rate
A new international study conducted by the Israeli Phage Therapy Center (IPTC) led by Prof. Ran Nir-Paz at Hadassah Hebrew University Medical Center and Prof. Ronen Hazan of the Faculty of Dental Medicine at The Hebrew University of Jerusalem, using phage PASA16 on compassionate basis to treat tough Pseudomonas aeruginosa infections, has shown promising results with an 86.6% success rate.
This research involving 16 patients with persistent infections represents the largest of its kind and brings encouraging findings. The study's success demonstrates the potential effectiveness of PASA16 phage therapy in tackling challenging Pseudomonas aeruginosa infections, paving the way for future clinical trials and encouraging further exploration of phage therapy as an alternative and auxiliary approach against antibiotic-resistant infections. The paper is published in the journal Med.
https://medicalxpress.com/news/2023-08-anti-bacterial-virus-antibiotic-resistant-infections.html
Diagnostics:
still an incredible, negligent last of testing.
Epidemiology/Infection control:
Relevant to schools starting up soon is a new report on K-12 2°
#SARSCoV2
transmission. It is low (~2-3%), but significantly reduced w/masks (by 88%), vaccination (by 96%), increased 2.5 fold in classroom vs out-of-classroom
jamanetwork.com/journals/jama-
@JAMAHealthForum
@SandyNelsonMD
~ ~ ~
New York reported 8,877 new coronavirus cases this past week, up 36% from last week or 165% from last month
~ ~ ~
about 23 million Americans have developed burdensome lingering effects from often mild initial infections.
   --Jerome Adams
Tips, general reading for public:
Ventilate.
Mask.
Vax.
Press freedom:
Police stage 'chilling' [and likely illegal] raid on Marion County, KS newspaper, seizing computers, records and cellphones
https://kansasreflector.com/2023/08/11/police-stage-chilling-raid-on-marion-county-newspaper-seizing-computers-records-and-cellphones/
Subsequently, Joan Meyer, the paper's 98 yo co-owner and a newspaperwoman since 1953 said: "These are Hitler tactics and something has to be done."
She then died, reports the Marion Record. More at
 https://www.kansas.com/opinion/editorials/article278199777.html#storylink=cpy
https://www.kansascity.com/opinion/readers-opinion/guest-commentary/article278204212.html
~ ~ ~
Covid:
Got a cold, runny nose, the sniffles? No worries! Come to school, LAUSD says https://latimes.com/california/story/2023-08-12/got-a-cold-runny-nose-the-sniffles-no-worries-come-to-school-lausd-says
~ ~ ~
~ ~ ~
~ ~ ~
~ ~ ~
~ ~ ~
~ ~ ~
~ ~ ~
Abortion/Reproduction:
~ ~ ~
~ ~ ~
Iran announced 2-day national shutdown d/t heat.
~ ~ ~
~ ~ ~
~ ~ ~
No one who devotes their life to public service should have to live with the threat that a former president is coming after them.
Security increased for Judge Chutkan:
TFG said on Truth Social post last week, "IF YOU GO AFTER ME, I'M COMING AFTER YOU!"
~ ~ ~
@ProPublica:
The fullest accounting yet shows how Thomas has secretly reaped the benefits from a network of wealthy and well-connected patrons that is far more extensive than previously understood.
~ ~ ~
~ ~ ~
Trump lawyer proposes moving trial from DC to WV, where there is a "diverse" population -- where the diversity is 92.08% white.
Kohlberg Kravis Roberts & Co buying Simon & Schuster for $1.62 billion
~ ~ ~
~ ~ ~
~ ~ ~
Florida's convention business is beginning to suffer as a slew of hate-driven, "anti-woke" bills signed into law recently by Ron DeSantis has draped the Sunshine State in controversy. ... the fallout is now spreading to a key economic artery for an income-tax-free state heavily reliant upon tourism taxes: convention dollars.
~ ~ ~
There is no same-day voter registration in Mississippi; voters must register 30 days before an election. But local election officials are free to move polling precincts around—even 13 hours before an election. And two just moved in Hinds County, hours before the election.
~ ~ ~
The impact of this voting restriction is unmistakably partisan: Ohio's 6 largest counties all voted for Joe Biden & cast 42% of the statewide vote. They each get just one early voting location. Of the 82 smaller counties, all but 1 voted for Donald Trump
Oregon Republicans barred from running for re-election after boycotting votes
~ ~ ~
see fetal rights, above.
~ ~ ~
23 people have died in Texas prisons this summer as Abbott & Co. cook them in their cells without A/C., via Beto.
~ ~ ~
~ ~ ~
3-year-old dies while being transported by Abbott to Illinois
~ ~ ~
They were granted an exemption for all claims, including the claim about sexual harassment.
The footnote states: Specifically, the University requests assurance "that the belief in or practice of its religious tenets by the University or its students" would not constitute "unwelcome conduct" under the Department's definition of "sexual harassment" under Title IX.
Baylor University specifically sought assurance that the university and its students could not be accused of sexual harassment for their behavior towards LGBTQIA+ people. Your religious tenets should not require you to act in a way that may be classified as sexual harassment.
Baylor wrote: "The University does not discriminate on the basis of sexual orientation or gender identity or expression per se, but it does regulate conduct that is inconsistent with the religious values and beliefs that are integral to its Christian faith and mission."
Three cheers for Portugal, which has granted asylum to all 150 students of the Afghanistan National Institute of Music. The students are rebuilding their lives as they keep alive Afghanistan's musical heritage. The Taliban have banned music as immoral. https://twitter.com/heatherbarr1/status/1690059800632078336 via @timurkuran
~ ~ ~
"My neighbours are too low income to afford a wifi connection, and too proud to use mine. So I renamed mine Free Council Wifi and told them I had read about it and what the password was. My neighbour is now halfway through an online college qualification and l'm so proud of her."
~ ~ ~
Sweet story of kindness to migrant children:
https://www.cnn.com/2023/08/07/us/migrant-children-barbie-dolls-ctpr/index.html
~ ~ ~
On many of the films he worked on, Robin Williams would ask the production company to employ at least 10 homeless people. During his career, he helped over 1500 homeless people get work
~ ~ ~
A swan couple reunites after rescuers treat one. This magic makes the world beautiful & stops time for a moment. 🪄❤️ pic.twitter.com/x7nm8E4zFU

— Hakan Kapucu (@1hakankapucu) January 5, 2023
~ ~ ~
Can we let children rule the world💙

pic.twitter.com/cebIOdP67g

— Tansu YEĞEN (@TansuYegen) August 3, 2023
Bits of beauty: