Coronavirus Tidbits #256 July 30, 2023
Announcements:
First, there is now a Resources Page here for the most commonly asked questions I'm getting.
Happy to continue to answer your questions/concerns as best I can, so don't be shy about that.
Reminder, Resilience: One Family's Story... is increasingly pertinent, as some of our politicians shift rightward. All proceeds go to Holocaust education.
Available here.
Ohio Election is going on now => Aug 8
Please remind your friends in Ohio to VOTE NO on Proposition 1, the only thing on the ballot.
Abortion access and gerrymandering are especially on the line.
On August 8, the only thing on your ballot will be Issue 1 to permanently end majority rule in Ohio.
A yes vote is a vote to end majority rule 
A no vote defends majority rule and the sacred principle of 'one person, one vote' 
to volunteer: https://www.mobilize.us/opalmissionvote/event/568468/
Trend in Hospital Admissions From Covid -- +10.3% in most recent week Jun 16, 2023Jul 15, 2023
~ ~ ~
Wastewater surveillance may be best marker of community COVID-19 prevalence
Wastewater surveillance may be the most accurate way to track SARS-CoV-2 community prevalence and identify variants of concern amid increased home COVID-19 testing, decreased public health reporting, and fewer healthcare visits due to asymptomatic cases and the wide availability of vaccines and treatments, Stanford University researchers report today in JAMA Network Open.
The team conducted a time series analysis of wastewater surveillance data from 268 counties in 22 US states from January to September 2022 and offer a strategy for communities to use SARS-CoV-2 wastewater metrics amid declining reliability of conventional surveillance methods. The study period took place during SARS-CoV-2 Omicron variant predominance.
https://www.cidrap.umn.edu/covid-19/wastewater-surveillance-may-be-best-marker-community-covid-19-prevalence
~ ~ ~

~ ~ ~
1 in 6 kids (16%) have persistent COVID symptoms for 3 months after Covid
A systematic review today in Pediatrics of 31 studies published through December 2022 reveals that persistent symptoms 3 months after confirmed COVID-19 infections, or "long COVID," affect 16% of children and adolescents.
The 31 studies included 15,000 children, and researchers recorded more than 20 persistent symptoms. For the first months of the pandemic, there was a dearth of research and understanding on how and if children could suffer from long COVID.
https://www.cidrap.umn.edu/covid-19/study-1-6-kids-have-persistent-covid-symptoms-3-months-after-infection
~ ~ ~
Study finds that a 100-year-old treatment inhibits COVID-19 infection
The team found that suramin, a 100-year-old drug still used for human sleeping sickness that has many other potential applications, inhibits the infection of SARS-CoV-2.
"Suramin binds to the ACE2 and cell surface heparan sulfate binding sites on the receptor binding domain (RBD) of the viral spike (S) protein in vitro," said Dordick. "Both ACE2 and heparan sulfate help the coronavirus infect cells. Suramin, therefore, shows great promise as a treatment for COVID-19."
https://medicalxpress.com/news/2023-07-year-old-treatment-inhibits-covid-infection.html
~ ~ ~
An interferon (IFN) modulator achieved a potent reduction of
#SARSCoV2
viral load and protected the lungs in the macaque model, demonstrating both the critical importance of IFNs and potential for an early treatment
science.org/doi/10.1126/sc
~ ~ ~
The CDC is preparing for a winter with '3 bugs out there': Covid, flu and RSV
Vaccines are available for all three...getting people to take them is another issue...
~ ~ ~
@microbeminded2 
Jul 26 
Taste dysfunction
This team found
#SARS
-CoV-2 RNA/protein in tongue tissue of patients with long-term taste dysfunction after
#COVID
-19. Viral persistence was identified up to 63 weeks post-infection and accompanied by immune activation + misshapen or absent taste buds:
~ ~ ~
This is the best article that I have ever read on the origins of SARS-CoV-2 It is detailed, sober, & non-alarmist, following the facts & the peer-reviewed literature The author,
@DavidQuammen
, interviews scientists on all sides of the debate Superb
~ ~ ~
Two very good, new
#LongCovid
reviews —On the multi-system sequelae
thelancet.com/journals/lanre
—On mechanisms of brain/neurologic involvement and potential treatment approaches
~ ~ ~
Mitigating neurological, cognitive, and psychiatric sequelae of COVID-19-related critical illness
~ ~ ~
Other:
'Swine flu' strain has passed from humans to swine nearly 400 times since 2009, study finds
A new study of the strain of influenza A responsible for the 2009 H1N1 pandemic—pdm09—shows that the virus has passed from humans to swine about 370 times since 2009, and subsequent circulation in swine has resulted in the evolution of pdm09 variants that then jumped from swine to humans. Alexey Markin of the U.S. Department of Agriculture-Agricultural Research Service and colleagues present these findings in the open-access journal PLOS Pathogens.
https://medicalxpress.com/news/2023-07-swine-flu-strain-humans.html
~ ~ ~
Dengue is breaking records in the Americas — what's behind the surge?
Increasing temperatures contribute to longer dengue seasons, and could drive the geographical expansion of the disease.
https://www.nature.com/articles/d41586-023-02423-w
~ ~ ~
Alpha-gal syndrome, that allergy to meat and dairy after a tick bite, is rising
Of all the bizarre ways we humans interact with other creatures on this warming Earth, the sensitivity to a substance found in meat and dairy (and tick saliva) after being bitten by a tick has to rank high on the list. A new CDC report tells us a​​lpha-gal syndrome, short for allergy to the sugar galactose-alpha-1,3-galactose, has climbed 41% from 2017 to 2021. A survey also released yesterday found that 42% of health care providers didn't know about the syndrome and another 35% weren't too confident about how to diagnose and treat it.
This sensitivity shows up long after inflammation from the tick bite subsides because the antibody to alpha gal sticks around. There are no cures or treatments for the condition, and allergies often last for years, potentially causing hives, nausea and vomiting, upset stomach and diarrhea, and in extreme cases, anaphylaxis. STAT's Bree Iskandar has more.
~ ~ ~
Shingles vaccine reduces risk of stroke and heart attack from virus, 
Getting vaccinated against shingles could significantly reduce the risk of suffering a stroke or heart attack from the virus, a new study published in the journal Nature Communications has found.
Shingles is caused by the same virus, varicella zoster, that causes chicken pox. People who get chicken pox can develop shingles later in life if the virus becomes active again.
"Shingles results in a painful skin rash, but we also know there's an increased risk of having a stroke or heart attack in the first month after the virus is reactivated," said James Mbinta, the study's lead author and a Ph.D. candidate in the School of Health at Te Herenga Waka—Victoria University of Wellington.
The risk of stroke is two to three times higher if the virus reoccurs in the ophthalmic nerve—a sensory nerve in the face.
"The results of our study suggest the shingles vaccine offers a large protective effect against both stroke and heart attack in the first 42 days after vaccination," Mbinta said.
https://medicalxpress.com/news/2023-07-shingles-vaccine-heart-virus.html
Diagnostics:
still an incredible, negligent last of testing.
Diagnostics:
I have 4 good friends with Covid this week. Starting symptom: sore throat. Only 1 tested pos initially, then the other three did throat swabs as someone recommended. Yep. All immediate dark line. Don't let your guard down folks.
Or combined nose and throat swabs are recommended by some.
Epidemiology/Infection control:
U.S. sees biggest rise in COVID-19 hospitalizations since December
~ ~ ~
As COVID-19 cases rose, so did diabetes — no one knows why
buff.ly/3q8NS5M
Before COVID-19, the incidence of type 1 diabetes in children was rising at a steady rate of around 2–4% a year. With COVID, the increase was 14% in 2020 and 27% in 2021. That's a 10x increase.
~ ~ ~
(1/6) Respiratory viruses are much more likely to spread indoors than outdoors, but outdoor super-spreading events can still occur if the conditions are right. A new study describes a SARS-CoV-2 outbreak affecting 131 people at a night market.
(2/6) The outbreak happened when a family of 3 people infected with the omicron BA.5.2 variant visited a night market in Zhejiang Province, China, in July 2022. They spent 1 hour and 4 minutes at the market.
(3/6) On the evening of the outbreak, it was warm (27 degrees Centigrade), humid, and there was very little wind. Most of the market stalls had big umbrellas and it was crowded. The market had a capacity of 5,000 people.
(4/6) During their 1 hour and 4 minutes at the market, the index cases infected 131 people. Researchers worked out that infectious aerosols were able to remain suspended in the air for up to 1 hour and 39 minutes.
(5/6) Why were so many people infected?
Very little breeze
Narrow aisles with umbrellas overhead
2 cases did not wear masks
Cases had to speak loudly due to the noisy environment
(6/6) This study shows that super-spreading events can occur outside if the conditions are right. It's probably a good idea to continue to wear a mask outside if the environment is crowded.
~ ~ ~
Tips, general reading for public:
Ventilate.
Mask.
Vax.
~ ~ ~
~ ~ ~
A parable https://t.co/niNGRnus4s

— Madhusree⚕️ Singh, MD (@thinkalot) July 25, 2023
~ ~ ~
So i made this#RIPTwitter #RIPTwitterBird #TwitterLogo #TwitterX pic.twitter.com/SkZOrUuU9W

— ♥ M e i ♥ (@gratest_mei) July 24, 2023
~ ~ ~
Antisemitism:
This fucking imbecile
@greggutfeld
is beyond absurd. He argues that Jews honed skills in the Holocaust that allowed some to survive. More than SIX MILLION men, women, & children because they weren't useful enough.
@FoxNews
is complicit in this hateful tirade.
#NeverAgain
twitter.com/decodingfoxnew
~ ~ ~
Climate:
The climate crisis is spiraling out of control. 1000s of fish are washing up dead in the Gulf of Mexico because the water is too hot to hold oxygen. This is a climate emergency.pic.twitter.com/yeRpoXHw5b

— Saul (@saaaauuull) July 21, 2023
~ ~ ~
Ughhhh "On July 20th, CRF™ teams visited Sombrero Reef, a restoration site we've been working at for over a decade. What we found was unimaginable - 100% coral mortality. We have also lost almost all the corals in the Looe Key Nursery in the Lower Keys."
~ ~ ~
Dietary Guidelines:
Government departments (like @USDA
& @DHSCgovuk
) frequently publish dietary guidelines. But looking at hunter-gatherers & forager-farmers, I'm struck by how many violate Western guidelines yet have healthier hearts & much less chronic illness. Here are 3 well-studied examples:
~ ~ ~
GOP:
Unreal. A recent post from Moms For Liberty says that all health care in schools should be banned. Now, it appears that their next target is school nurses.
~ ~ ~
~ ~ ~
Greed:
Gilead Sciences devised a plan to delay release of a new HIV drug's release to maximize profits, even though executives had reason to believe it might turn out to be safer for patients.
Free Gift article here
~ ~ ~
Medicaid:
~ ~ ~
Swimming:
The country has more than 10 million private swimming pools, but fewer than 309,000 public ones. That "public" figure includes hotel and condo pools, so the number of municipal pools truly open to the public is unknown and much smaller.
More than 4,000 people die by drowning every year in the United States, a public health crisis. A majority of Americans lack basic swimming ability. Millions have no safe place to swim.
We can build more pools and create a culture of swimming instead of a culture of drowning. Every Americans need a place to cool off during hot summers, get healthy, and have fun together.
~ ~ ~
Alaska:
 In a blatant attempt to undo a hard-won victory for Tribes, Alaska residents, and small businesses, the State of Alaska is seeking to revive the Pebble Mine project by going directly to the Supreme Court. It's as unorthodox as it is wrong.
~ ~ ~
Florida:
Reason alone to disqualify
#DeathSantis
from any position:
#DeSantis
suggests he could pick
#RFKJr
. to lead the FDA or CDC
politi.co/43IdFzy
~ ~ ~
If it hadn't been for a fender bender on Interstate 75 near Chattanooga, TN, Tuesday morning, most folks wouldn't know that
#Florida
@GovRonDeSantis
was using state govt vehicles for his 2024 run for president.
orlandosentinel.com/2023/07/28/new
~ ~ ~
Texas:
Connect this op-ed to
#Texas
A&M suspended professor accused of criticizing LtGov Patrick in a lecture The prof. an opioids crisis expert, was placed on paid administrative leave&investigated, raising ?s about extent of political interference in higher ed
newsweek.com/real-threat-fr
~ ~ ~
Virginia:
Rep. Abigail Spanberger (D) has told Dems she will run for
#VAGOV
in 2025 That will ripple into the House majority fight. She & an aide told 2 people she does not plan to run for reelection in
#VA07
in 2024 w
@sarahnferris
I will remember Tony Bennett joining the March from Selma to Montgomery for Voting Rights in 1965. He performed, under the threat of violence, for those fighting for their rights. Harry Belafonte asked him to join the movement. We lost both of these icons months apart. God Bless pic.twitter.com/XNhrgbIzry

— Wendell Pierce (@WendellPierce) July 21, 2023
~ ~ ~
Wounded US veterans accept new mission: healing coral reefs
Since 2011, the lab and the nonprofit Combat Wounded Veteran Challenge (CWVC) have teamed up for a week annually to help restore coral reefs, a key ecosystem for marine life.
CWVC puts wounded veterans in challenging environments, partnering with researchers who observe and gather information on them to help improve treatment for post-traumatic stress disorder, head trauma and other conditions....
https://www.rawstory.com/wounded-us-veterans-accept-new-mission-healing-coral-reefs/
~ ~ ~
Sweet story: Library staff closes the book on missing money mystery after patron leaves $1,200 | 2023/7/23 - New York Daily News
https://nordot.app/1056015463896777660?c=592622757532812385
~ ~ ~
This surreal clip of chimpanzee thoroughly washing the hands of the man in the forest is astounding
🎥 JC Pieri pic.twitter.com/fYknxrrush

— Gabriele Corno (@Gabriele_Corno) July 24, 2023
~ ~ ~
Masayo Fukuda, contemporary master of kirie, or Japanese paper-cutting, crafting hyper detailed creatures from single sheets of paper, an art that has been around since 700 AD #WomensArt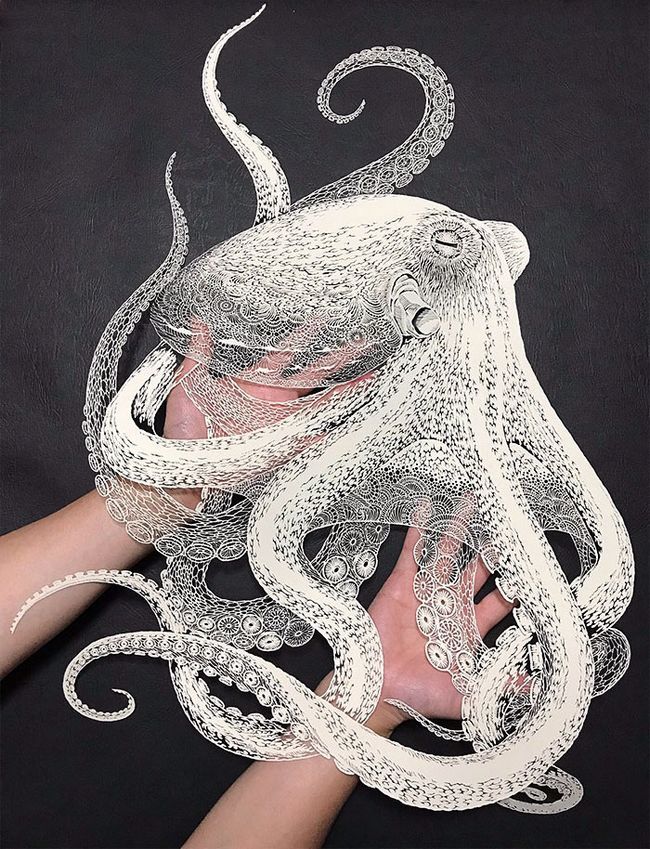 "The Teapot"
That morning I heard water being poured into a teapot.
The sound was an ordinary, daily, cluffy sound.
But all at once, I knew you loved me.
An unheard-of thing, love audible in water falling.
--Robert Bly
~ ~ ~
In a world where you can be anything, be kind.. 😊 pic.twitter.com/vOsX7m5HEz

— Buitengebieden (@buitengebieden) July 23, 2023
Bits of beauty: