Coronavirus Tidbits #252, July 2, 2024
Announcements:
First, there is now a Resources Page here for the most commonly asked questions I'm getting.
Happy to continue to answer your questions/concerns as best I can, so don't be shy about that.
Reminder, Resilience: One Family's Story... is increasingly pertinent, as some of our politicians shift rightward. All proceeds go to Holocaust education.
Available here.
New post:
Growing Cases Of Malaria In The U.S. Prompt CDC Alert
https://www.forbes.com/sites/judystone/2023/06/27/growing-cases-of-malaria-in-the-us-prompt-a-cdc-alert/?sh=4fb8b164283f
Hint: climate change, poverty
Practical tips on improving air quality, the CDC historic ACH (air changes per hour) recommendation, MERV, HEPA and other acronyms contextualized, in convo w/ @linseymarr https://t.co/tTreuvJycY pic.twitter.com/fqyWMFongx

— Eric Topol (@EricTopol) July 1, 2023
~ ~ ~
WHO: 36 million people in Europe have experienced long Covid
STAT
Over three years into the pandemic, we still don't know a lot about long Covid. Estimates of long Covid prevalence have varied widely, blurring the true impact on a population's health. Yet the burden of long Covid on those who struggle with the condition has become clear. In Europe, approximately 36 million people have experienced long Covid since 2020, Hans Henri P. Kluge, WHO regional director for Europe, said yesterday.
Kluge cited data from the Institute for Health Metrics and Evaluation at the University of Washington in Seattle, which suggests nearly 1 in 30 people across 53 countries in the WHO European Region may have experienced long Covid in the first three years of the pandemic. The staggering numbers are more than double what WHO officials said last September, when they estimated at least 17 million Europeans had experienced long Covid in the first two years of the pandemic.
~ ~ ~
About 25% of those with COVID-19 only partially recover taste or smell, or never do
Approximately one-quarter of adults who lost taste or smell following SARS-CoV-2 infection reported partial or no recovery of their senses, a study published in The Laryngoscope found.
According to Margaret B. Mitchell MD, MS-HPEd, a third-year resident in otolaryngology at Harvard Medical School and lead study author, and colleagues, prior research identified olfaction and gustatory dysfunction as symptoms of COVID-19, but those studies have been small and showed significantly varying prevalence of sensory loss in patients.
https://www.healio.com/news/primary-care/20230628/about-25-of-those-with-covid19-only-partially-recover-taste-or-smell-or-never-do
~ ~ ~
Novel drug could treat long COVID and prevent re-infection
A new drug developed by QIMR Berghofer could transform the treatment of COVID-19 by potentially protecting against infection by any SARS-CoV-2 variant and reversing the persistent inflammation that is a major driver of debilitating long COVID.
The findings of the second major study demonstrating the pre-clinical effectiveness of the peptide-based drug, NACE2i, have been published in the journal Nature Communications.
Epigeneticist and co-lead author, Professor Sudha Rao who heads QIMR Berghofer's Gene Regulation & Translational Medicine Group, said the drug was tested repeatedly by independent laboratories using a variety of pre-clinical models.
"The results of this second major study are really exciting. It shows our drug, NACE2i, stops the virus replicating and protects against re-infection," Professor Rao said. "We believe it could be a highly promising adjuvant to boost the effectiveness of existing vaccines providing long-lasting protection against any variant of the virus that tries to enter the cells.
"The other major discovery is that we uncovered the pathway that the virus uses to induce the persistent inflammation which causes organ damage found in long COVID. This study shows our drug prevents that inflammation and even repairs damaged lung tissue in pre-clinical models. It is both a prevention and a treatment."
https://medicalxpress.com/news/2023-06-drug-covid-re-infection.html
~ ~ ~
Study: Sperm counts decline even after mild COVID infections
Men recently infected with COVID-19 have decreased sperm counts for more than 3 months following even mild infections, and the sperm they do produce is less able to swim, according to new findings presented today at the annual meeting of the European Society of Human Reproduction and Embryology (ESHRE) in Denmark.
The findings are intriguing because men produce new sperm every 2 or 3 months, and the findings are based on semen analyses taken after 100 days, suggesting COVID does long-term damage to the male reproductive tract...
https://www.cidrap.umn.edu/covid-19/study-sperm-counts-decline-even-after-mild-covid-infections
~ ~ ~
CDC: Research Says Long Covid "Contributing" to Labor Shortage
About 18% of those with Long COVID have not returned to work for over a year. The CDC says it's "hurting the U.S. economy."...
5% of Those With Covid Can't Work for More Than a Year
The new presentation comes from the Clinician Outreach and Communication Activity (COCA) team, which mentions labor shortages during a segment discussing the challenges of working while dealing with Long Covid.
the report came out last January, following an analysis of more than 3,000 Covid-19 workers' compensation claims from the period between January 2020 and March 2022. That report, out from New York's largest workers' compensation carrier, the New York State Insurance Fund, had plenty of other insights worth keeping in mind.
From the report:
Almost one-third of all workers infected with Covid-19 suffered or are suffering from Long Covid, with the percentage peaking during the initial phase of the pandemic and falling over time.
The percentage of female workers with Long Covid (37 percent) was 11 points higher than that of male workers (26 percent).
Forty percent of workers with Long Covid returned to work within 60 days of infection while still receiving medical treatment.
Nearly all workers with comorbidities or those hospitalized for their initial infection experienced Long Covid.
The incidence of Long Covid in essential workers may be higher than the data suggests, creating a potential blind spot for policymakers.
Expect the Labor Shortage to Continue
Understandably, people have heard enough about the Covid pandemic and want it to be over. But assuming that 5% of those who get Covid in the future will stay out of the labor market for at least a year, the economy will face some significant headwinds for as long as Covid continues to circulate.
https://tech.co/news/cdc-research-long-covid-labor-shortage
~ ~ ~
~ ~ ~
Other:
Polish officials probe H5N1 avian flu link to cat deaths
https://www.cidrap.umn.edu/avian-influenza-bird-flu/polish-officials-probe-h5n1-avian-flu-link-cat-deaths
"The researchers found that those with preclinical Alzheimer's disease had markedly different assemblages of gut bacteria… The team also found that the microbiome changes correlated with amyloid-beta and tau levels in the brain…" -- @winstoncb
https://directorsblog.nih.gov/2023/06/27/changes-in-human-microbiome-precede-alzheimers-cognitive-declines/
Diagnostics:
still an incredible, negligent last of testing.
An inhaled Covid vaccine booster was more than 5-fold effective for inducing neutralizing antibodies at 28-days, and more durable at 1-year, than shots, vs Omicron BA.5 in a randomized trial
thelancet.com/journals/lanin
@TheLancetInfDis
[Note: Not ready for prime time]
Air Quality is A Major Issue of Our Time—
with raging wildfires,  vulnerable immunocompromised dealing with circulating #SARSCoV2, and other respiratory viruses. Eric Topol's conversation with Linsey Marr
https://erictopol.substack.com/p/linsey-marr-air-qualitya-major-issue
~ ~ ~
Bias from pulse oximeters remains even if corrected by race, study finds
Pulse oximeters were a critical part of life-saving care during the COVID-19 pandemic, shaping treatment by measuring oxygen levels in the blood. The devices, which became common in the 1980s, have long shaped protocols for detecting hypoxemia, low blood oxygenation that can lead to organ failure and death.
While decades of published research have shown that pulse oximeters can give biased readings for patients with dark skin, a team of researchers at Washington University in St. Louis is reporting that suggested raced-based adjustments to hypoxemia thresholds are insufficient; instead, researchers report, the oximeter itself must be fixed. Doctors have suggested "race corrected" pulse oximeter measurements by calculating a race-based "value" to subtract from the device's reading before using it to detect hypoxemia.
https://medicalxpress.com/news/2023-06-bias-pulse-oximeters.html
~ ~ ~
I'm proud to have our latest research published on how long #SARSCoV2 remains infectious while airborne! We studied the fundamental processes that drive the loss of viral infectivity in the aerosol phase. #COVIDisAirborne

Here's a thread going over some of the findings. pic.twitter.com/4HG1mIIcaX

— Al Haddrell (@ukhadds) June 22, 2023
Complete study at https://royalsocietypublishing.org/doi/10.1098/rsif.2023.0062
Comment: @jljcolorado  Jun 22
Very interesting results. Anything that produces acids indoors may help the virus stay infective. A lot of "air cleaning" techniques (PCO, plasmas, hydroxyls, GUV...) produce oxidants, that will produce acids. Whether the effect is large enough needs study.
~ ~ ~
At moderate humidity, ~50% of the infectivity is lost near instantaneously. Humidity only affects virus aerostability for 10 minutes, after which the decay profile becomes humidity independent. At 40 minutes, >95% of infectivity is lost, regardless of humidity....
The results of this study provide the scientific basis for new and effective mitigation strategies
#COVID19
(+other viruses). The key role that the aerosol alkalinity means that anything that reduces the acid content of the air will lower the aerosolised viral load
#ventilation
Epidemiology/Infection control:
Covid outbreak at Boston hospital:
Masks reinstated in Boston hospital after an outbreak. "Some people said, 'Well we're not sure what's going to happen,'" said Jirmanus. "Well, I think we all know what was going to happen. When you take away masks in health care, you have outbreaks."
DOH said 12 staff members and seven patients were infected, with no critical illness
~ ~ ~
Global COVID markers show few hot spots as XBB.1.16 overtakes XBB.1.5
rises of more than 20% over the last 28 days. They include Afghanistan, Bangladesh, and Malta, and Eastern Mediterranean
the XBB.1.16 subvariant for the first time topped the XBB.1.5 proportion, now accounting for 20.5% of sequences globally.
Japan may have entered its ninth wave...and #LongCOVID  has affected as many as 36 million people in the region over the past 3 years.
https://www.cidrap.umn.edu/covid-19/global-covid-markers-show-few-hot-spots-xbb116-overtakes-xbb15
~ ~ ~
It's not just Covid. Many RNA viruses have long-term sequelae via Hannah Davis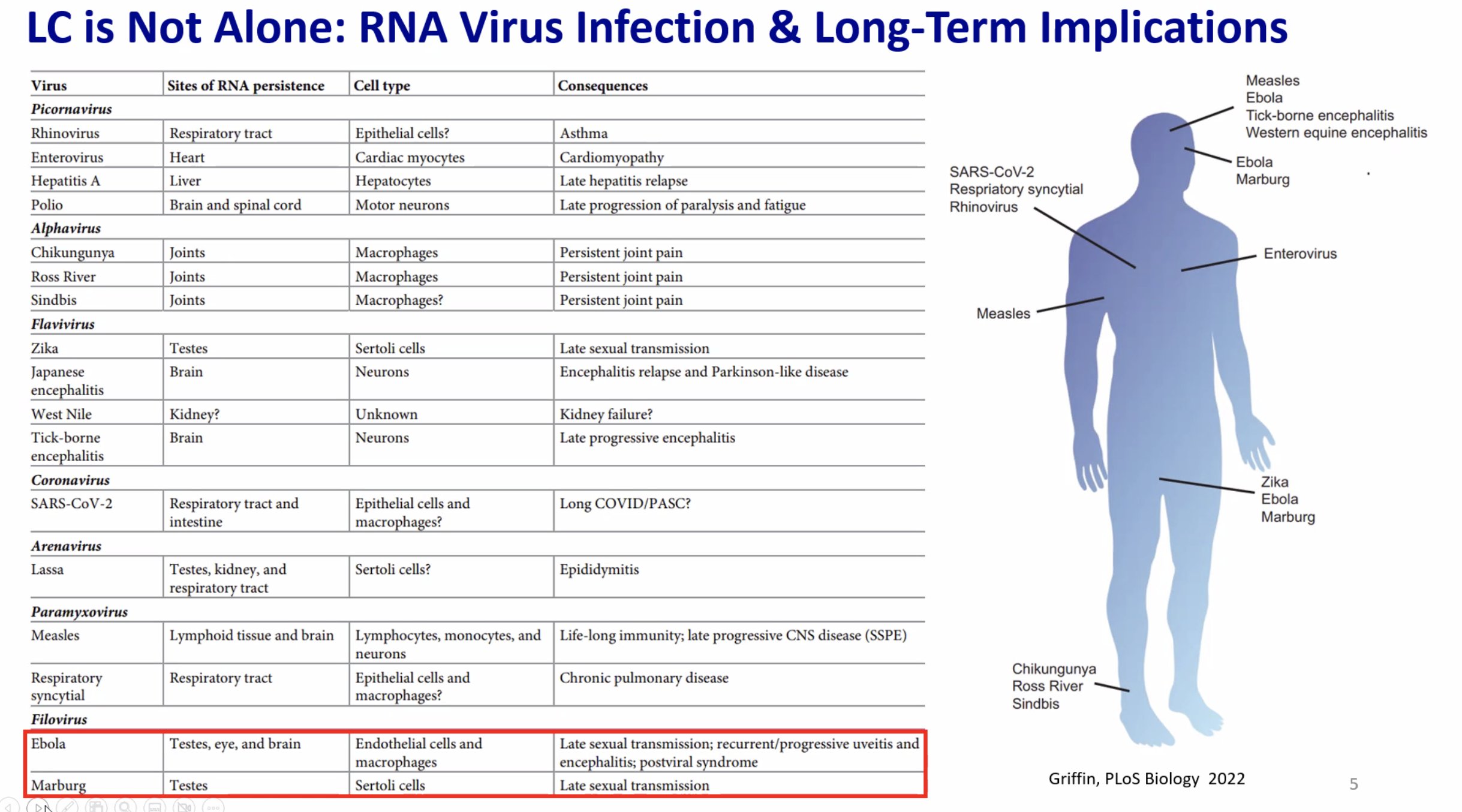 ~ ~ ~
One out of six rats in New York sewers had prior SARS-CoV-2 virus infection. One out of 20 were actively carrying the virus (rtPCR positive). The remarkable ability of this virus to infect multiple animal species helps maintain a parallel, non-human reservoir.
Response:
That is an incorrect oversimplification. None of the rats had neutralizing antibodies, and none had a clear sign of infection, just little bits of RNA. You could have swabbed any surface in NYC during that time period and found the same thing.
I'm not just spouting off. Those were actually my samples that they analyzed.
Tips, general reading for public:
Vote Dem as though your life depends on it...
Ventilate.
Mask.
Vax.
 Covid:
Abortion/Reproduction:
Antisemitism:
June 26, 2023
activity in Macon, GA
~ ~ ~
Climate/Environment:
https://twitter.com/chrishendel/status/1673146936923136002?s=20
~ ~ ~
~ ~ ~
~ ~ ~
GOP/TFG/DeSantis
~ ~ ~
~ ~ ~
~ ~ ~
~ ~ ~
~ ~ ~
~ ~ ~
~ ~ ~
~ ~ ~
June was supposed to be Pride month, not Prejudice...
~ ~ ~
~ ~ ~
~ ~ ~
~ ~ ~
~ ~ ~
~ ~ ~
~ ~ ~
~ ~ ~
~ ~ ~
Arizona: 
see abortion, above
~ ~ ~
California:
~ ~ ~
Florida:
~ ~ ~
~ ~ ~
Pinal County elections director resigns. "With no regrets, I quit."
~ ~ ~
~ ~ ~
~ ~ ~
~ ~ ~
~ ~ ~
~ ~ ~
~ ~ ~
~ ~ ~
~ ~ ~
Teen who walked six miles to 8th grade graduation gets college scholarship on the spot
https://www.cbsnews.com/news/teen-walked-6-miles-8th-grade-graduation-college-scholarship/
~ ~ ~
Macon community unites against anti-Semitism in powerful downtown rally
In a powerful display of unity and solidarity, hundreds of people gathered in downtown Macon Saturday to rally against the recent displays of anti-Semitism that have shaken the community. With a shared determination to combat hate and promote inclusivity, residents from all walks of life joined hands and voices to denounce these acts and reaffirm the city's commitment to tolerance and acceptance.
The rally was sparked by a series of incidents involving anti-Semitic symbols and rhetoric in Macon and Warner Robins. Concerned citizens, deeply disturbed by these displays of hate, took it upon themselves to organize the gathering, hoping to send a resounding message that such intolerance would not be tolerated. Well-known Maconite Jim Crisp organized the last-minute rally, hoping that just a few people would attend. Estimates are that hundreds came together to rally against the recent incidents. The rally featured leaders like Bibb County Sheriff David Davis and District Attorney Anita R. Howard....
https://wgxa.tv/news/local/macon-community-unites-against-anti-semitism-in-powerful-downtown-rally#
~ ~ ~
The story of "water man" Patrick Mwalua, the man who has been buying and transporting water for long distances to Tsavo West National Park to quench wild animals' thirst

[read more: https://t.co/lgEWf6GgXS]pic.twitter.com/9r6fnK0ZKQ

— Massimo (@Rainmaker1973) June 27, 2023
~ ~ ~
Art by Tan Chun Chiu pic.twitter.com/Msp5rj8wPS

— Carlyanne McConnell (@CarlyanneMcCon1) June 26, 2023
~ ~ ~
Must read--wonderful story:
Ride 'em cowgirl! (No paywall) https://t.co/iFxLdnO6Mn

— Peg (@ethnobot) July 1, 2023
Bits of beauty: