Coronavirus Tidbits #225 12/25/22
Covid:
Pre-procedure and pre-admission COVID-19 testing no longer recommended for asymptomatic patients
Health care facilities should no longer routinely screen symptom-free patients for COVID-19 upon admission or before procedures and rely instead on enhanced layers of infection prevention interventions, according to a recommendation from the Society for Healthcare Epidemiology of America (SHEA) published today in Infection Control & Hospital Epidemiology.
https://medicalxpress.com/news/2022-12-pre-procedure-pre-admission-covid-longer-asymptomatic.html?
~ ~ ~
Scientists find key reason why loss of smell occurs in long COVID-19
The reason some people fail to recover their sense of smell after COVID-19 is linked to an ongoing immune assault on olfactory nerve cells and an associated decline in the number of those cells, a team of scientists led by Duke Health report.
https://medicalxpress.com/news/2022-12-scientists-key-loss-covid-.html?
~ ~ ~
Long-term (180-Day) Outcomes in Critically Ill Patients With COVID-19 in the REMAP-CAP Randomized Clinical Trial,
4,869 critically ill patients with COVID-19 randomized to receive one or more therapeutic interventions: treatment with an IL-6 receptor antagonist (tocilizumab or sarilumab), led to a greater than 99.9% probability of improved 6-month mortality, while antiplatelet agents had a 95% probability of improving 6-month survival.
Moreover, the study also showed that treatments which improve survival, such as interleukin-6 receptor antagonists, do not come at the expense of survival with increased disability or poorer health-related quality of life.
In contrast, longer-term outcomes were not improved with therapeutic anticoagulation, convalescent plasma, or lopinavir-ritonavir, and were worsened with hydroxychloroquine alone or in combination with lopinavir-ritonavir. Corticosteroids did not confer a high probability of improved longer-term survival, although enrolment into this domain was closed early in response to external evidence.
https://medicalxpress.com/news/2022-12-results-longer-term-effects-therapies-treatment.html?
JAMA (2022). DOI: 10.1001/jama.2022.23257
~ ~ ~
Myocardial Injury in Patients With COVID-19 
patients with COVID-19 with elevated troponin during phase 3 (Omicron) tended to have improved outcomes when compared with patients in earlier waves of the pandemic. This improvement could be attributed to the implementation of the COVID-19 vaccines, advances in COVID-19 treatment options, provider experience, and less virulent variants.
https://www.sciencedirect.com/science/article/pii/S0002914922012371
~ ~ ~
Cardiac Injury Caused by COVID-19 Less Common Than Thought
https://medscape.com/viewarticle/985895?src=soc_tw_share… via @medscape
~ ~ ~
Results of Long COVID Rehab Program 'Impressive'
~ ~ ~
Molnupiravir:
Just out  @TheLancet

Failure of Molnupiravir to reduce Covid hospitalizations or deaths in a very large randomized trial (N>25,000 participants, mean age 57, 99% vaccinated)
thelancet.com/journals/lance
While the time to recovery was shortened, the price to pay is a very high rate of
#SARSCoV2
mutations induced (its obligatory mechanism). That alarming rate has been amply documented by  
@LongDesertTrain
"Our study demonstrates that [Molnupiravir] this commonly used antiviral can supercharge viral evolution in immunocompromised patients, potentially generating new variants and prolonging the pandemic."
~ ~ ~
Ryan Hisner 
@LongDesertTrain 
Nov 28
Approval for molnupiravir (MOV) use should be revoked worldwide. Not only has it proven ineffective, it seems clearly to be creating sequences such as the one below, which in ~2 months acquired 72 mutations, more than its lineage had accumulated in ~3 years of evolution. 
~ ~ ~
Jeremy Faust on this study:
This is the first randomized controlled human trial that has studied Covid-19 outcomes among *only vaccinated* people that we've ever seen. That's an absolutely astonishing fact, if you think about it.
This gives us an unusual chance to look at all-cause mortality and all-cause hospitalization among infected vaccinated people during the Omicron era... And to compare that the pre-Omicron and pre-vaccine era...
The news is absolutely excellent. Among participants—people over age 50 with medical conditions placing them in the high-risk category and who had confirmed SARS-CoV-2—only 8 deaths occurred among 25,054 patients. That's an infection fatality rate of 0.032%, or 1 in 3,132 cases.
This is incredibly positive news. In the previous major study of this drug—which, again, assessed high-risk Covid-19 patients who were unvaccinated—the all-cause infection fatality rate in placebo recipients was a staggering 1.2%, or 1 in 78....
It's also a sad/real possibility that death rates are now lower in part bc many highest-risk people died during the pre-Omicron era. Thus the survivor population is actually healthier on avg—a predicted phenomenon called "pull forward," "mortality displacement," or "harvesting."
Regardless, this all suggests that today, the risk of death from Covid-19 appears to be nearly two orders of magnitude lower in high-risk older groups than it was just a year ago—*assuming they are vaccinated*.
Last year's Molnupiravir study of unvaccinated high-risk Covid-19 patients recorded a hospitalization rate of 9.7% (68/699 patients, just a little better than 1 10 patients). In today's study, the rate was 0.78% in the control arm (98/12,525, or around 1 out of 128 patients).
~ ~ ~
Hospital-acquired Covid:
Hospital acquired Covid now accounts for 39% of Covid admissions. Hospital acquired covid counts have increased faster than other Covid admissions since the start of November. Last week's changes in admissions: - Total Covid
 36% - Hospital acquired
44% - Other 
32%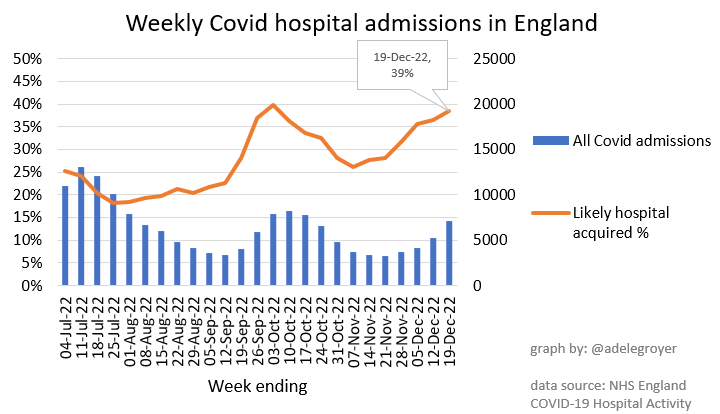 ~ ~ ~
and remember 39% of COVID HAIs result in death, because they are a vulnerable population.
cmajopen.ca/content/10/1/E
The mortality rate was higher in the HA group than in the NHA group (39.1% v. 25.9%, p = 0.001), while the rates of ICU admission (8.3% v. 19.1%, p = 0.001) and requirement for mechanical ventilation (3.6% v. 13.0%, p = 0.001) were lower.
~ ~ ~
Nasal irrigation: see Tips
~ ~ ~
The US is facing a shortage of infectious disease doctors
Only 56% of adult and 49% of pediatric infectious disease training programs were filled, even though most other specialties filled all or nearly all their programs, the (Infectious Disease) society said.
The U.S. is expected to have a severe shortage of infectious disease specialists over the next decade, according to projections by the federal Health Resources and Services Administration.
https://medicalxpress.com/news/2022-12-shortage-infectious-disease-doctors.html?
~ ~ ~
What is going on with our immune cells after COVID-19 infection? This thread will explore some of the impacts of COVID infection on our immune system even after people are recovered including: - Missing naive T-cells - Exhausted T-cells - Loss of B-cell maturation
~ ~ ~
Other:
Influenza:
Biden administration releases doses of Tamiflu from national stockpile
Flu season has hit especially hard this year, though it may be peaking in some parts of the country. According to the Centers for Disease Control and Prevention, there have been at least 15 million illnesses, 150,000 hospitalizations and 9,300 deaths from flu this year...
Flu season is typically between October and May, and peaks in December and January. But this year it arrived at least six weeks early, with more severe illness. Hospitalizations have been high across all age groups, but the highest rates were among adults age 65 and older, and children age 4 and younger. ...
https://thehill.com/policy/healthcare/3783562-biden-administration-releases-doses-of-flu-medicine-from-national-stockpile/
~ ~ ~
Fewer hospitalizations & positive
#flu
tests point to a continued decline in flu activity,
@CDCgov
reported today. Sadly, though, 17 more children have died from flu since early November, bringing the season total to 47 to date.
statnews.com/2022/12/23/flu
~ ~ ~
Increase in Pediatric Invasive Group A Streptococcal Infections
This increased number of pediatric iGAS cases in some jurisdictions has occurred in the setting of increased circulation of respiratory syncytial virus (RSV), influenza viruses, SARS-CoV-2, and other respiratory viruses. While the overall number of cases has remained relatively low and iGAS infections remain rare in children, CDC is investigating these reports.
https://emergency.cdc.gov/han/2022/han00484.asp
~ ~ ~
Monkeypox:
The Bittersweet Defeat of Mpox
The epidemic has largely subsided, but largely because queer men seem to have learned more from AIDS and Covid-19 than the authorities did.
Wired Maryn McKenna, DEC 22
For a few weeks this summer, the world worried that monkeypox might become the next global pandemic. At the peak in early August the US was recording 600 cases a day, and the health authorities' fumbling response echoed the early days of Covid-19. Vaccines were slow to arrive and in short supply for most of the fall. Testing was bottlenecked. Antiviral drugs, though they existed, were almost unobtainable because they hadn't been federally authorized for the disease. While most cases were among gay and bisexual men, there were fears that the rarely fatal but often extremely painful infection, which can can take weeks to subside, might spread to the broader population.
Things today look very different, at least for now. By mid-December, mpox, as the World Health Organization has now renamed it, had appeared in 110 countries, but the spread had dramatically slowed. The US, which had recorded 29,740 cases as of December 21—more than a third of the global total—was registering barely a handful each day.
While one reason is that access to vaccines and testing improved, and another is that mpox is inherently much harder to transmit than Covid, the biggest, most agree, is that the people most at risk took their protection into their own hands in those crucial early weeks when the authorities were flailing. "The success was the community mobilization," says Joseph Osmundson, a queer activist, molecular microbiologist, and clinical assistant professor at New York University.
https://www.wired.com/story/the-bittersweet-defeat-of-mpox/
~  ~ ~
Rickettsialpox in North Carolina: A Case Report
Diagnostics:
still an incredible, negligent last of testing.
On Ashish Jha and masks:
Wow. The White House COVID-19 Response Coordinator told
journalists that "there is no study in the world that shows that masks work that well." This is wrong, and dangerous misinformation @AshishKJha46. You need to retract your statement and issue a correction.
Here's the transcript of @AshishKJha46 saying in a @PhillyInquirer  interview that "there is no study in the world that shows that masks work that well." (h/t@Alexander_Tin
https://github.com/tinalexander/notes/wiki/12-2022-(December)…) Link to full video: https://youtube.com/watch?v=F8MiQRx_GKA&ab_channel=ThePhiladelphiaInquirer
Dr Jha's statement is incorrect. For instance here's a study published last month in
@NEJM
showing how the lifting of mask mandates in Boston area schools was associated with a significant increase in COVID cases. Masks do work.
nejm.org/doi/full/10.10
~ ~ ~
Does Using Corsi–Rosenthal Boxes to Mitigate COVID-19 Transmission Also Reduce Indoor Air Concentrations of PFAS and Phthalates?
While CR Boxes were deployed, concentrations of seven PFAS (N-EtFOSE, N-EtFOSA, FBSA, PFBS, PFHxS, PFOS, PFNA) were 28–61% lower and concentrations of five phthalates (DMP, DEP, DiBP, BBzP, DCHP) were 29–62% lower. Concentrations of five PFAS and one phthalate increased 23–44% during the intervention period, but the 95% CI of most of these estimates included the null. Daytime sound levels increased 5.0 dB when CR Boxes were operating. These results indicate that CR Boxes reduced exposure to several lower-volatility phthalates and sulfonated PFAS previously reported to be found in office building materials and products, with potentially distracting increases in sound levels.
https://pubs.acs.org/doi/10.1021/acs.est.2c05169#.Y6W5DuVS9nE.twitter
~ ~ ~
Private bill in the Quebec assembly to ensure health and safety of students by regulating air quality. 6 months after assent, every school must have CO2 sensors in every classroom. Data collected and forwarded to Minister weekly, made public on the ministry website.
CO2 maximum 1000 ppm. During a WHO declared pandemic, limit drops to 800 ppm. Must have an approved 'action protocol' to respond to CO2 above permitted limit.
12 months after assent, every classroom must have "the number of air exchangers or purifiers" specified in regulation. That regulation must consider the size of the room and the number of students (this sounds like it was drafted with some engineering input!)
Epidemiology/Infection control:
Tips, general reading for public:
Ventilate.
Mask.
Vax.
~ ~ ~
Rapid initiation of nasal saline irrigation to reduce severity in high-risk COVID+ outpatients
Abstract
Objective: To determine whether initiating saline nasal irrigation after COVID-19 diagnosis reduces hospitalization and death in high-risk outpatients compared with observational controls, and if irrigant composition impacts severity.
Methods: Participants 55 and older were enrolled within 24 hours of a + PCR COVID-19 test between September 24 and December 21, 2020. Among 826 screened, 79 participants were enrolled and randomly assigned to add 2.5 mL povidone-iodine 10% or 2.5 mL sodium bicarbonate to 240 mL of isotonic nasal irrigation twice daily for 14 days. The primary outcome was hospitalization or death from COVID-19 within 28 days of enrollment by daily self-report confirmed with phone calls and hospital records, compared to the CDC Surveillance Dataset covering the same time. Secondary outcomes compared symptom resolution by irrigant additive.
Results: Seventy-nine high-risk participants were enrolled (mean [SD] age, 64 [8] years; 36 [46%] women; 71% Non-Hispanic White), with mean BMI 30.3. Analyzed by intention-to-treat, by day 28, COVID-19 symptoms resulted in one ED visit and no hospitalizations in 42 irrigating with alkalinization, one hospitalization of 37 in the povidone-iodine group, (1.27%) and no deaths. Of nearly three million CDC cases, 9.47% were known to be hospitalized, with an additional 1.5% mortality in those without hospitalization data. Age, sex, and percentage with pre-existing conditions did not significantly differ by exact binomial test from the CDC dataset, while reported race and hospitalization rate did. The total risk of hospitalization or death (11%) was 8.57 times that of enrolled nasal irrigation participants (SE = 2.74; P = .006). Sixty-two participants completed daily surveys (78%), averaging 1.8 irrigations/day. Eleven reported irrigation-related complaints and four discontinued use. Symptom resolution was more likely for those reporting twice daily irrigation (X2 = 8.728, P = .0031) regardless of additive.
Conclusion: SARS-CoV-2+ participants initiating nasal irrigation were over 8 times less likely to be hospitalized than the national rate.
https://pubmed.ncbi.nlm.nih.gov/36007135/
2022 Aug 25;1455613221123737.
doi: 10.1177/01455613221123737
Covid:
~ ~ ~
~ ~ ~
~ ~ ~
~ ~ ~
Biden:
~ ~ ~
GOP:
28 Republicans Vote Against Bill To Protect Child Sex Abuse Survivors https://www.huffpost.com/entry/republicans-bill-abuse-lgbtq_n_63a514eee4b0d6724fb54a4f?
~ ~ ~
TFG/Jan 6:
Pelosi:  Dec 22
~ ~ ~
~ ~ ~
In creating his NFT collection, former President Trump seems to have borrowed images from across the internet, including clothing brands on Amazon and Walmart - PCMAG
~ ~ ~
~ ~ ~
~ ~ ~
~ ~ ~
~ ~ ~
~ ~ ~
~ ~ ~
~ ~ ~
~ ~ ~
~ ~ ~
Medicare:
Physical and Occupational Therapy Are on the

Medicare

Chopping Block
Proposed 4.5% cut to their therapy providers in 2023 under the Medicare Physician Fee Schedule. If this cut is implemented, the physical and occupational therapy community will experience cuts totaling approximately 9%opens in a new tab or window by 2024. The continued practice of annual Medicare cuts threatens the sustainability of the country's physical and occupational providers, especially in rural and underserved areas where they are needed most.
https://www.medpagetoday.com/opinion/second-opinions/102198
~ ~ ~
~ ~ ~
Vaccinations:
More than a third of U.S. parents now oppose routine school #vaccinations
https://medicalxpress.com/news/2022-12-parents-oppose-routine-school-vaccinations.html
~ ~ ~
Some #Medicare enrollees getting new ID numbers due to #databreach
https://www.cnbc.com/2022/12/16/some-medicare-enrollees-getting-new-id-numbers-due-to-data-breach.html
~ ~ ~
Abortion/Reproductive care:
Planned Parenthood starts telemedicine abortions in Kansas
A Planned Parenthood affiliate announced Tuesday that it has started teleconferences with off-site doctors for patients seeking medication abortions at one of its Kansas clinics, a small step toward potentially much broader access in a state that has become a destination for the procedure after an August vote affirming abortion rights.
https://medicalxpress.com/news/2022-12-parenthood-telemedicine-abortions-kansas.html?
~ ~ ~
~ ~ ~
~ ~ ~
~ ~ ~
~ ~ ~
~ ~ ~
~ ~ ~
Fentanyl:
Fentanyl test strips help prevent overdoses, why are they still controversial?
https://www.statnews.com/2022/12/19/fentanyl-test-strips-help-prevent-overdoses-why-are-they-still-controversial/?
~ ~ ~
Greed:
A Chick-fil-A location is fined for giving workers meals instead of money
A Chick-fil-A in North Carolina has been fined $6,450 for paying workers with meals instead of money and violating child labor laws, the Department of Labor has announced.
An investigation by the DOL found that at a Chick-fil-A in Hendersonville, N.C., three employees under 18 were assigned hazardous tasks, such as operating, loading and unloading the trash compactor.
https://www.npr.org/2022/12/23/1145166783/chick-fil-a-child-labor?
~ ~ ~
Racism:
Airbnb Announces Ban on Slave Cabin Rentals
The concern over slave cabins listings dates back to 2019.
https://www.theroot.com/airbnb-announces-ban-on-slave-cabin-rentals-1849911328?
~ ~ ~
Antisemitism:
https://twitter.com/LeftCoaster44/status/1604569260629495808?s=20&t=vP4W445ralNDyUJFDh8IhA
~ ~ ~
~ ~ ~
Book bans:
Allowed:
~ ~ ~
Florida:
Why is Florida's governor ramping up his anti-vaccine rhetoric?
Opinion by G. Yamey: https://www.bmj.com/content/379/bmj.o3061
~ ~ ~
New Zealand:
~ ~ ~
~ ~ ~
~ ~ ~
Afghanistan:
~ ~ ~
~ ~ ~
~ ~ ~
~ ~ ~
Ukraine:
I was late for the train and forgot to add: the Xmas tree (Kyiv) is lit up by an exercise bike connected to a car generator. Passengers pedal away to lit up the tree because Russian attacks led to constant blackouts. https://rubryka.com/en/2022/12/19/u-kyyevi-novorichnu-yalynku-zasvityly-za-dopomogoyu-velosypeda-ta-rizdvyanyh-koles-z-elektrychky-yak-pratsyuye-tse-rishennya/
~ ~ ~
Great perspective from Zelensky's speech to Congress:
"Your money is not charity but an investment in global security." President Zelensky.
~ ~ ~
"US spending of 5.6% of its defense budget to destroy nearly half of Russia's conventional military capability seems like an absolutely incredible investment."
https://cepa.org/article/its-costing-peanuts-for-the-us-to-defeat-russia/
~ ~ ~
China:
China megacity says people with symptomatic COVID can work 'as normal'
People with COVID-19 symptoms in one of China's largest cities can now go to work "as normal", state media reported Monday, a dramatic reversal in a country where a single case could previously send thousands into lockdown.
https://medicalxpress.com/news/2022-12-china-megacity-people-symptomatic-covid.html?
~ ~ ~
China COVID deaths probably running above 5,000 per day - UK research firm Airfinity
BEIJING, Dec 22 (Reuters) - More than 5,000 people are probably dying each day from COVID-19 in China, health data firm Airfinity estimated, offering a dramatic contrast to official data from Beijing on the country's current outbreak.
The UK-based firm said it had used modelling based on regional Chinese data to produce figures that also put current daily infections in the country at above a million.
Its estimates were "in stark contrast to the official data which is reporting 1,800 cases and only seven official deaths over the past week," it said in a statement.
China's National Health Commission (NHC) did not immediately respond to a request from Reuters for comment. On Thursday it reported no new COVID-19 deaths and 2,966 new local symptomatic cases for Dec. 21.
A senior World Health Organization official said on Wednesday that China might be struggling to keep a tally of COVID infections as it experiences a big spike in cases.
An abrupt U-turn by China on its previous zero-COVID policy following protests has raised global concerns of widespread infections among a vulnerable, undervaccinated population. It has stopped mass testing and no longer reports asymptomatic cases.
Airfinity said its mortality risk analysis suggested between 1.3 to 2.1 million people could die in China's current COVID outbreak. Analyses by other modelling groups have also predicted as many as 2.1 million deaths.
Airfinity estimates the wave could have two peaks at 3.7 million a day in mid-January in regions where cases are currently rising and 4.2 million a day in March in other provinces.
This week, a leading Chinese medical expert said only deaths caused by pneumonia and respiratory failure after contracting COVID will be classified as having been caused by the coronavirus.
https://www.reuters.com/world/china/china-covid-deaths-probably-running-above-5000-per-day-uk-research-firm-2022-12-22/
~ ~ ~
(So basically China went directly from Zero COVID to the Great Barrington Declaration.)
~ ~ ~
Fears of a 'dark COVID winter' in rural China grow as the holiday rush begins
https://www.npr.org/sections/goatsandsoda/2022/12/23/1145252501/fears-of-a-dark-covid-winter-in-rural-china-grow-as-the-holiday-rush-begins?
Feel good du jour:
One Diamond Heights resident has slowly — single-handedly — turned a two-block stretch of the neighborhood into a toy zoo of sorts.
~ ~ ~
~ ~ ~
Baby rhino orphaned by poachers now has own calf
RHINO CONSERVATION: Congratulations to the team at
@CareforWild
on the birth of another calf born to a rhino who was an orphan of poaching.  Video at:
~ ~ ~
https://twitter.com/Yoda4ever/status/1604574695029805057?s=20&t=vP4W445ralNDyUJFDh8IhA
~ ~ ~
Wait until the end.. pic.twitter.com/SrvxiPhBwu

— Buitengebieden (@buitengebieden) December 18, 2022
~ ~ ~
So adorable puppies pic.twitter.com/W51Ocag7Qf

— Doglover (@puppiesDoglover) December 19, 2022
~ ~ ~
Have you seen/heard Emily Blunt's story about the L&D Nurse telling her that her newborn is "gorgeous?" It's hilarious.
https://youtu.be/eQ10N8TRZvk?t=50
~ ~ ~
What wine pairs best with finding out my in-laws are staying a day longer than I thought?
@OkinCity: 
I have three for you that I highly recommend
Vonnegut's reflection is a breath of fresh air in an achievement-crazy culture - and particularly welcome in contrast to the grit mindset that says kids must stick with one thing until they master it (even if joylessly) rather than sampling a broad range of experiences. pic.twitter.com/T0wGbhKGFB

— Alfie Kohn (@alfiekohn) December 20, 2022
~ ~ ~
I've been thinking about this post by @muiren@sfba.social all day.

Something really struck me, & I finally decided what it was.

THIS is the world I want to live in. Where we spend money, and attention and energy to bring people IN rather than keep them out.@tzimmer_history pic.twitter.com/KnmiLLTCFt

— Edge (@czarbucks) December 22, 2022
Bits of beauty: